More Than Just a Bookstore
Small in size, the Hockaday Bookstore is a big destination among students. From school supplies to uniforms to beauty pick-me-up's, the store carries just about anything that a student might need. Digging deeper, the Bookstore is much more than just a regular old school store. There are many interesting items in the store that holds a special place in the Hockaday community.
Bookstore Manager Dara Williams is the mastermind behind everything sold at the bookstore. Her job includes selecting new products and ordering the goods. For Williams, the goal of the bookstore is to raise school spirit within the Hockaday community and to build school pride.
"Everybody loves Hockaday stuff. It's all about what fun Hockaday stuff can we put out there and what can we put Hockaday's name on," Williams said.
Let's take a look at some of the unique items that are available at the Hockaday Bookstore: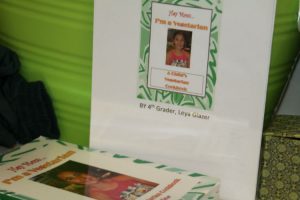 "Hey Mom…I'm a Vegetarian: A Child's Vegetarian Cookbook" by Leya Glazer 
You might have seen this book with a smiling picture of a girl on the cover displayed at the bookstore and wondered about it. The girl is actually Leya Glazer, a current fifth-grader at Hockaday, and the book is her own vegetarian cookbook! Working with her mother, a food scientist and nutritionist, Glazer crafted vegetarian recipes that are both delicious and nutritious. The book is split into four sections that are easy to navigate: "Breakfast," "Appetizers, Soups, Salads and Sides," "Main Meals" and "Desserts." The dishes range from "Yogurt Parfaits," to "Vegetable Pad Thai" and "Mint Chocolate Chip Ice cream."
Disco Ball Tumblers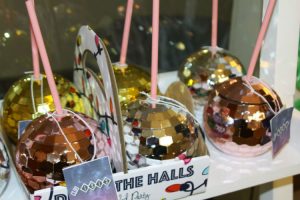 Each year, the Hockaday Parents' Association Benefit fundraises for the school. This year, the Benefit's theme is "Club 1913." To advertise for the event, the Hockaday's Parents' Association launched these special disco balls at the Bookstore. Don't be fooled by their appearance, because these dazzling items are actually water tumblers! Who else feels ready to party after seeing these fun, sparkling, and not to mention, practical disco balls?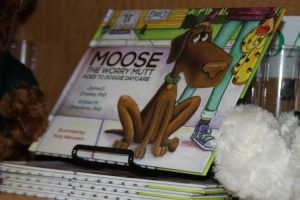 "Moose the Worry Mutt Goes to Doggie Daycare" by Jaime Crowley and Kristen Ohlenforst
What's more lovable than a Chocolate Labrador named Moose as the main character of a children's book? Even better, "Moose the Worry Mutt Goes to Doggie Daycare" is co-written by Hockaday alumna Jaime D. Crowley, PhD. The book is an adorable story of Moose, a dog who likes to worry, and his journey of overcoming anxiety. Crowley is a licensed psychologist who lives in Dallas, and Moose is based on her own dog. The children's book offers therapeutic benefits, in which Moose teaches adults and children alike to overcome anxiety in a healthy way.
"Somewhere in Time" by Bob Snook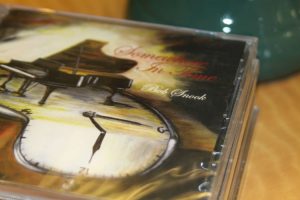 Most Hockaday students remember Fine Arts accompanist Bob Snook from his involvement in the eighth grade musical, and some know him from his work in the Upper School Musical, but few know of his record that's sold at the Hockaday Bookstore. "Somewhere in Time" is a features 11 of Snook's solo piano arrangements. The track list includes favorites like "Clair De Lune" and piano arrangements of popular songs such as "What a Wonderful World" by Louis Armstrong. You can find Snook's records sitting by the cashier.
Hockaday Charms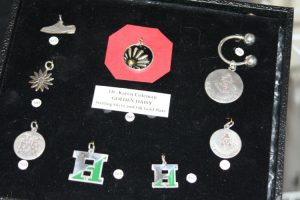 Also sitting by the cashier are the Hockaday Charms that celebrate unique experiences at Hockaday. Each grade has a different charm featuring a unique event that happens to Hockadaisies during the respective year. For example, the Form III charm is a white blazer, referencing ring day, whereas the Pre-K charm references the Pre-K circus and the Form II charm celebrates the History of Art and Music course. A special charm in the shape of a golden daisy, designed by Eugene McDermott Head of School Dr. Karen Warren Coleman, is new to the collection.
---
Story and Photos by Michelle Chen, Asst. Web Editor