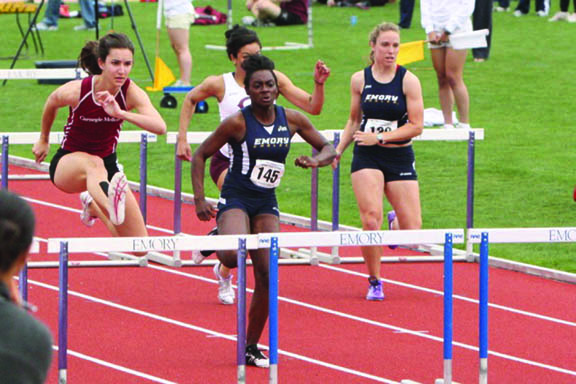 After graduating from Hockaday, two certain graduates, along with many others, decided to pursue their respective sports in college. Taylor '09 currently plays lacrosse at Northwestern University in Chicago, Ill. Jackie '10 runs indoor and outdoor track at Carnegie Mellon University in Pittsburg, Penn.
A junior at Northwestern, Taylor helped lead her lacrosse team to the NCAA Division 1 Championships her sophomore year, where they defeated Maryland to become the 2011 National Champions. Jackie earned recognition as an All-American runner three times by placing in the top eight at three different races in track during both the indoor and outdoor seasons.
Taylor explains that female athletes, especially the women's lacrosse team due to their recent success, are "regarded well at school," with many fans attending the games and providing support across campus.
At Carnegie Mellon, Jackie says that female athletes are "equally dedicated and talented as the male athletes" and receive equal attention in the student press. However, none of the university's sports teams pack the stands because "most students at Carnegie Mellon are intensely focused on academics."
Taylor has been starting on the women's lacrosse team since freshman year, but her favorite memory comes from this past spring 2011 season.
It was Northwestern's second game of the season, an away game at the University of North Carolina, a major rival.  The game remained tied at six goals each, and only 15 seconds remained in overtime. Taylor held the ball under pressure, drove through two UNC defenders and scored the game's winning goal. It was "a really surreal and neat moment," she said.
Comparing the game of lacrosse at Hockaday and at Northwestern, Taylor notices a huge difference. Not only does the game play quicken, but "the ball is rarely dropped, everyone is fast and the skill level is much higher."  Rising to the challenge, she has improved and changed her playing style since graduating from Hockaday.
"I have much better stick skills and field sense in college, and I am savvier with the ball," Taylor said. Also, with the required weight lifting in college, she is physically stronger; this has also improved her speed and play.
Jackie also notices many changes between high school and college running. The biggest difference is the addition of another season, which is indoors and an increased amount of meets on the weekends. However, the duration of practice and the types of workouts did not change much.
Jackie competed at a meet almost every single weekend for second semester during her freshman year of college. While "it's exciting because you get to spend time with your teammates and compete against other schools," Jackie must be able to handle her academic work and plan ahead to be able to travel each Saturday.
She says that her proudest moment was making it to nationals in both Indoor and Outdoor track. She was an All-American in three events: placing sixth in the 55-meter hurdles at Indoor and placing seventh in both the 100- and 400-meter hurdles in the Outdoor national race. Runners who finish in the top eight at nationals are regarded as All-American.
With Taylor entering her junior year, the women's lacrosse team will have high expectations after defeating Maryland at the National Championship this year. After her team placed second during her freshman year, "it was awesome to see our young team this year grow throughout the season and see all of our hard work pay off," she said.
Jackie does not plan to compete in running professionally, but she does plan to continue an active lifestyle, maybe even by joining a running club after college. She would also consider finding open meets if "I still want that aspect of track" once she is older.
Taylor says that she will "never rule anything out" about pursuing lacrosse after college. She says that if she becomes a graduate assistant or goes to school for her master's degree, she would consider playing again.
These athletes, along with many others, decided to pursue athletics after they left Hockaday due to the experiences and coaching offered here.
– Megan