Hocka-Valentine's-Day Stories
PICTURED ABOVE: Claire Cothren and her husband on the day of their engagement. Photo courtesy of Claire Cothren.
---
This year, Hockaday students celebrated Valentine's Day with a day-off from school. As you snuggle with your loved ones or your stuffed animal to enjoy the unexpected six-day weekend, here's some lovey-dovey Valentine's Day stories from the Hockaday community.
A Valentine's Proposal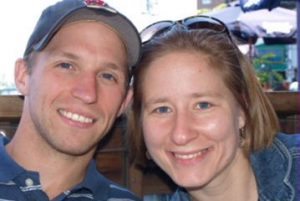 Director of College Counseling Courtney Skerritt met her husband Devon Skerritt at a college fair when both were working for college admissions. "One does not go to a college fair thinking that they're going to meet their spouse," Courtney Skerritt said.
On the weekend before Valentine's Day, Courtney Skerritt booked a ski trip at the White Mountains of New Hampshire. Before the trip, Courtney noticed that Devon and his students at the College of the Holy Cross were "acting really strangely," so she anticipated that the proposal might unfold. As the couple sat down in the hotel lobby area one day during the trip, Devon asked Courtney to look up at the mantel. And there was the ring box! "I was just glad that there was nobody around at that time," Courtney said.
Love at "First Sight"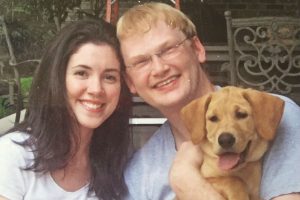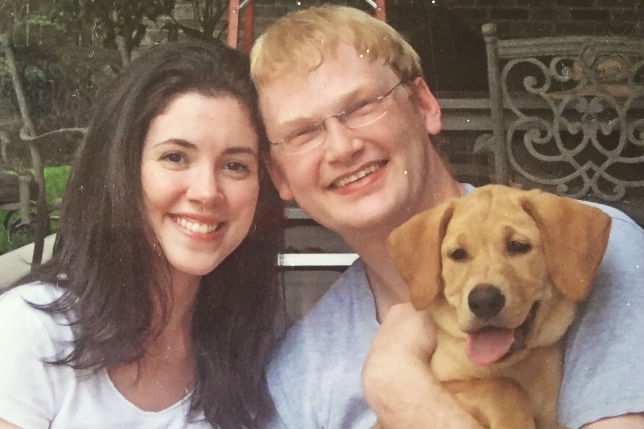 When Upper School English Teacher Claire Cothren first laid eyes on her husband, she was only in preschool. The two met again in high school when Cothren transferred out of her home economics class into the same calculus class as her future spouse. They happened to sit next to each other. One day, the teacher asked the two to grade each other's quizzes. "He made a thirty on his quiz. I was so embarrassed. I thought that was going to be the end of it," Cothren said. But after that, he asked her out on a date!
Fast forward to the engagement. Cothren, just out of bed on a Saturday morning, got a call from her then boyfriend saying that he was going over to her apartment. "I came out in my pajamas looking real disheveled and sleepy," Cothren said. To her surprise, her would-be husband came out of the car with a puppy, and on the collar of the puppy was her engagement ring! "But really, the reason I think he did this was because he didn't want to get married at that point, and he was like 'If I have to get married, I'm going to buy myself a dog as a present,'" Cothren said.
Cothren now lives happily with her husband and the puppy, Bella.
Family Love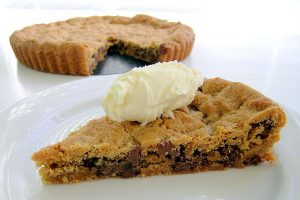 Every year, Senior Trinity Thomas and her family celebrates Valentine's day together. Thomas' parents will always prepare a little gift for her and her siblings. This year, Thomas' father bought the family heart-shaped Great American Cookie cookie cakes with their names spelled out in icing the weekend before Valentine's Day. On Valentine's Day, Thomas' mother bought Valentine's Day cards to the siblings. In the past, Thomas has received gift cards and candy from her parents. "Our dad always surprises us with a little Valentine's Day treat," Thomas said.
Blinded by Love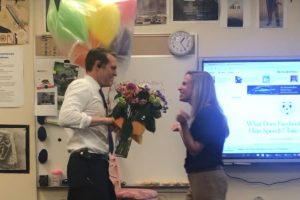 On the day of her engagement, Upper School History Teacher Tracy Walder was mad at her then-boyfriend Ben Walder. The couple planned on a dinner at the restaurant of their first date–a diner on the beach at Malibu. Tracy was disappointed that Ben had to feed his cells for a research project on the same day. "I remember being like 'I don't care about your cells, I need to be fed!' I was so mad, and he was like 'Ok fine, I'll just pull the car up and just come down and meet me.'" Tracy said.
When Tracy got into the car, there was a box on the car seat. In a fit of temper, she threw the box to the back seat. Little did she know that her engagement ring was in the box! "He didn't say a word! I was so blinded by being mad that I didn't even register," Tracy said. Before dinner, the couple took a walk on the beach, where Ben proposed.
---
Michelle Chen, Asst. Web Editor