The Puppy Next Door
PICTURED ABOVE // Upper Morgan Dorm Mom Vicki Palmer smiles with her fluffy dog, Sugar. Photo by Charlotte Dross.
---
At first glance, Bella and Sugar are like any other Hockaday Upper School girls. Bella dreams of drinking Starbucks Frappuccinos and devouring Chick-fil-A nuggets during snack time, and she hates waiting in lines. Sugar loves to be part of the conversation—occasionally she can be very bossy—and she has a bad case of "Fear of Missing Out" (FOMO). But there is one difference between them and the rest of the Hockaday students: Bella and Sugar are dogs.
Sugar, a fluffy, white Maltese, became the first dog in boarding five years ago when she was saved from a puppy mill by Vicki Palmer, Boarding Dorm Mom and Residence Life Community Outreach Coordinator.
Former Eugene McDermott Head of School, Kim Wargo, reached out to Palmer in 2013 about adding dogs to the boarding department. Palmer jumped at the idea, and she rescued a then-2-year-old Sugar, saving her from a dim future which would consist of having multiple litters of puppies.
"She just landed here, you know, in this bouquet of daisies, just like I did," Palmer said.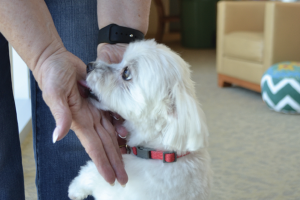 Sugar's favorite pastimes include watching the Child Development Center (CDC) kids waddle around the playground and playfully licking everyone that comes near her. At the entrance of her room, you will even find a doormat that reads, "Careful, Dog can't hold its licker!"
"She really is my best friend though; she loves to spend time [at Hockaday]. I'm so blessed to be able to take my dog to work," Palmer said with a huge grin.
Bella, a black and brown Yorkshire Terrier, came to Hockaday with Jayne Shackelford, Boarding Dorm Parent and Residence Life Leadership Coordinator, four years ago.
"We were a package deal," Shackelford said.
Before arriving at Hockaday, Shackelford had considerable experience with dogs in school atmospheres. At Shackelford's previous school, Jefferson County Independent School District in Colorado, all the teachers had golden retrievers. "In Denver and the mountain areas where I lived, it was extremely common for people to take their dogs everywhere," Shackelford said.
"I would love to see each of us have a dog. Pets, in general, have a real calming effect," Shackelford said, smiling down at Bella.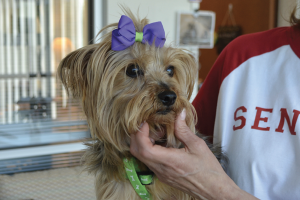 Shackelford, Bella and Bella's adopted sister, Hazelie, fit right in at boarding after adjusting to their new apartment life. Hazelie recently moved out to live with Shackelford's daughter, but Bella still calls Hockaday her home. She quickly took up the task of squirrel protector, guarding the Hockaday students against any treacherous rodents that might enter their path. While on duty, Bella wears her "squirrel patrol" shirt to warn any creatures that try to double-cross her.
The name Bella means "beautiful" in Latin, which perfectly fits Bella's shiny coat and adorable smile. If you asked Bella her favorite things to do, she would say travel with her family, but don't tell anyone that they bought her a stroller to ride in. She would also tell you that she wears a bow every day and she owns more colors than you could possibly imagine.
Bella and Sugar live in boarding 24 hours a day, seven days a week, 365 days a year. In their spare time, they prance around to say "hi" to the Hockaday girls during room checks.
Bella and Sugar benefit the Hockaday Boarding Department. Annalise Ashman, sophomore and first-year boarding student, enjoys seeing the dogs and taking a break from the non-stop Hockaday routine.
"I like the fact that it brings out the child in everyone," Ashman said. "Even with the stress everyone will take the time to walk the dogs or just give them a little belly rub, it's really nice."
---
Story by Ava Berger. Photos by Charlotte Dross.