Big Sis Lil Sis
PICTURED ABOVE // Senior Sara Grace Aldis and her Hockaday "lil' sis" Lindsay Heusinger
---
Brought to you by the Student Relations Board, the Big Sis Lil is program connects the newest and oldest members of Upper School. In the beginning of the school year, freshmen look forward to this new friendship, while seniors await the announcement after Allaso Ranch. For some, the news is no surprise—they've known their counterpart for years. For others, they are able to establish new friendships with girls in other grades. From athletics and community service to breakfast and watching shows with each other, here are some ways big and lil' sisters spend time together.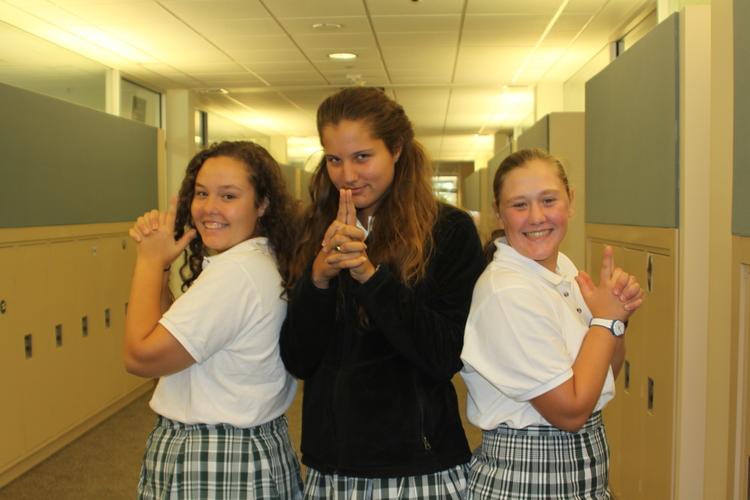 The Best of Both World
Senior Emma Carr has the best of both worlds: she has two little sisters, Sarah Youngberg and Cate Goglia. Carr and Youngberg met at Allaso Ranch, before they knew they were paired together. "Out of all the freshmen, she was the only one I talked to at the retreat," Carr said. "What are the odds!" Youngberg and Carr, are both competitive tennis players, and schedule practices together at their respective tennis clubs. On the other hand, fifth- grader Goglia and eighth-grader Carr became good friends in middle school during recess while playing foursquare together. They've kept in touch through the years, with Goglia leaving notes on Carr's locker and Carr giving Goglia advice. "I got to watch her go through middle school and now she's in high school with me," Carr said. Next on their schedule: watching Carr's and Goglia's eighth grade musicals.
Best Friend's Sister
Since seventh grade, senior Sara Grace Aldis has been close with senior Grace Heusinger and has wanted to be the "big sis" of Heusinger's little sister, freshman Lindsay Heusinger. "Their mom, Missy, practically raised me," Aldis said. Before they were paired together, Aldis and Heusinger had already spent time together thrift shopping, mini-golfing and watching Paris Hilton and Nicole Richie on 'The Simple Life.' Because they've been friends outside of the big sis lil' sis program, it was easy for them to make the transition. "Even though I kind of knew that she was going to be my big sis, I was still excited," Heusinger said. The pair have such a close relationship that Aldis often spontaneously shows up at the Heusinger household; in fact, Aldis said, "most of my texts with Lindsay say 'I'm at your house!'"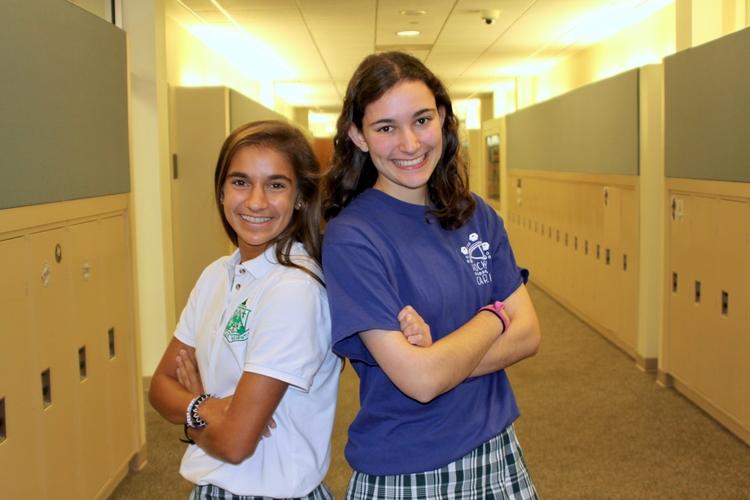 Breakfast Buds
Maddie McBride and her lil' sis, Leena Mehendale, bond over breakfast. At the beginning of the year, they went to Bread Winners Cafe and Bakery for breakfast. In fact, when she was a freshman, McBride's big sis, Frances Burton '16, took her to breakfast at Whole Foods every few weeks. These periodical breakfasts were a tradition with Burton and her big sis as well. "It's kind of like a family line," McBride said. McBride and Mehendale are continuing the tradition and are planning more breakfasts together. Additionally, following her big sis, Mehendale will join the Wesley Rankin teen board this year, of which McBride is one of the co-presidents. "We'll get to do community service together," Mehendale said.
---
Story and photos by Kelsey Chen, staff writer