The Midterm Results Explained
//PICTURED ABOVE: Senator of Texas Ted Cruz at New England College Town Hall Meeting on Feb 3rd, 2016. Photo provided by Flickr user Michael Vadon.
---
The Hockaday community was mainly concerned with the race between Beto O' Rourke and Ted Cruz, but the midterms had immeasurable consequences around the country. Here is a breakdown of the elections that consumed the minds of the American public for the last few months.
Results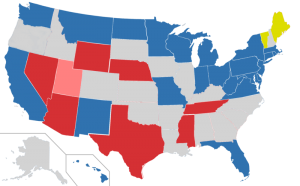 The House of Representatives now has a majority of Democrats, with 222 Democrats to 199 Republicans. Democrats gained 26 seats while Republicans lost 26 seats. However, the Senate remains with a Republican majority of 51 seats to 46 Democrats, with the Republicans gaining 2 seats. There were 36 governor's races on the ballot in the 2018 midterms, and 7 Democrat candidates replaced Republicans as governor.
Trends
Many are calling the 2018 midterms a blue wave, with vast Democrat gains in the House and in governor elections.
Political analysts and newspapers attribute the House of Representatives' new Democrat majority as a combined result of pushback against Trump's 2016 win, increased Democratic campaign spending, falls of complacent Republican incumbents and a targeted Democratic message about health care.
The issue of health care was the most important issue for voters in the midterms, according to NPR, and the midterms reflect that importance of voters' want for an affordable, organized healthcare system.
The New York Times wrote that the Democratic win could have been aided by Trump casting "aside a positive Republican message about economic prosperity in favor of stoking racial panic about immigration–with appeals that veered into overt racism, alienating moderate swing voters and further enraging Democrats". Many Democratic campaigns focused on using this anger to fuel wins.
Only 30 districts flipped from Republican to Democratic, but a substantial 317 districts swung to the left in voting, according to a report by The New York Times.
However, despite this 'blue wave', the Senate remains staunchly Republican, gaining 2 seats and electing several new senators who oppose abortion rights, an important issue Republicans will be able to advance. Republicans gained previously Democratic Senate seats in Indiana, North Dakota and Missouri, which will increase the Senate's right-leaning in decisions.
The Hockaday Community
The midterm elections saw a surge in the diversity of the candidates, notably the first openly gay man to be elected governor (Jared Polis), the first Muslim women (Rashida Tlaib and Ilhan Omar) elected to Congress, and the first Native American women (Sharice Davids and Deb Haaland) elected to Congress. In fact, women have broken the previous record of 107 seats in Congress, and some are dubbing 2018 as "Year of the Women."  
Overall, the increased diversity has received some positive responses from the Hockaday community. Sophomore Elizabeth Roosevelt admired the success of 29-year-old Alexandria Ocasio-Cortez, the youngest woman ever elected to Congress. "I think it's great that we're having so many new, young people with fresh, new ideas," said Roosevelt, "even though I don't share all her views, I still think that's amazing."
So, what are Hockaday students looking for in a candidate?
Multiple students have voiced that they value honesty and authenticity in a candidate. "How much the candidates care about who they're trying to represent matters a lot to me," sophomore Emily Stevenson said.
However, students would like a variety of different issues to be addressed by the new representatives, ranging from LGBTQ+ rights to the economy. "For me personally, I want second amendment rights addressed. I go to school every day, so that is something that can easily affect my life," Stevenson said.
Some students have expressed their opinions about the elections on social media and have received comments about what they posted. Many Hockaday students have expressed support for others voicing their opinions, but generally agree that social media posts should be respectful. "I think we should be positive about what's happening," said sophomore Anna Connolly, "there's no reason to be negative. We should work with what we have." With an increased polarization in American politics, there has been a backlash against divisive postings.
Roosevelt had posted something herself about the House race on her Instagram story. "I think as long as people are being respectful of everyone's views and know that not everyone shares their own, I think it's totally fine," Roosevelt said.  
---
Story by Kelsey Chen and Niamh McKinney