Humans, by nature are inherently visual beings.Arguably, what appeases the eye appeases the soul. At least, that is what some patients aim for when they decide to go under the knife, shelling out thousands for that "perfect look." A nip here, a tuck there—plastic surgery's increased accessibility and safer methods have attracted more than just aging adults looking to lose a few lines. It's a cultural trend, even a social movement, overcoming its conventional stigmas and earlier discretions because, for many Americans, it comes down to one question: if you can fix it, why not?
The New Normal
A new generation is emerging and shaping the very way we perceive this once stigmatized industry. Plastic surgery, with its more advanced procedures and medical breakthroughs, is complemented by the youth's new openness and rebranding of the field. Although starting out as something most keep a secret, plastic surgery has adopted a new light, becoming accessible, quick and, most importantly, empowering. In the Hockaday community alone, approximately 60 percent of high school students have considered getting plastic surgery, while 14 percent are currently planning to get plastic surgery in the future. Considering that the average ages of these highschool students range from 14 to 18, the effect that the industry has on this young age group proves indisputable.
Maya Dattatreya, a freshman at Hockaday, is just one of these young teens who once considered plastic surgery. "Sometimes it feels like there some exceptions for women," Dattatreya said. "At one point, I was considering plastic surgery for my nose. I was told that it would look better if my nose looked more common—more like the majority." So, with plastic surgery's popularity on the rise, just what influences these young minds that perfection is just a procedure away? While a new type of laser or cutting-edge advanced procedure has helped plastic surgery efficacy, its most influential and powerful weapon is not physical at all. Enter social media.
Social media's vast capability to reach the masses is one of the primary catalysts for plastic surgery's newfound growth. As members of an ever-growing, socially-active world, how we present ourselves and how we communicate with others is becoming overwhelmingly digital. Meticulously documented on a plethora of social media platforms, our digital footprints are undeniable. Take a scroll through your social media feed and a bombardment of its inhabitants' most ideal selves are ubiquitously plastered across their own personal pages, destined to live online for eternity.
Mary Hurley, a cosmetic dermatologist based in Dallas, has observed this digital rise through her practice. "Everybody is on their smartphones, especially the younger generations. Everything that they see and learn about is online. The exposure to it changes their perception and how they define beauty," Hurley said. "People want to look like the photoshopped pictures and it's not the real world. There's a sense of lost individuality."
Dattatreya speaks to how the widespread use of social media heightens beauty pressures in her own generation. "Our pictures [on social media] are exposed to way more people," Dattatreya said. "The pressure to look perfect and like the norm is real." With these factors in mind, many patients, in lieu of image-altering apps or makeup, boost their digital presence by turning to something a bit more invasive, and where better to find these plastic surgeons than on the very platform they use daily. Undoubtedly, more and more surgeons striving to inform and entice a potential audience utilize social media accounts such as Instagram, Facebook and Snapchat to document their procedures, posting "before and after" shots, surgery prep close-ups and post-op progress.
Instead of browsing a surgeon's website, many are drawn to their social media accounts, where sometimes even daily accounts of their work is displayed for an intrigued audience. Also, many patients, male and female, who have successfully undergone plastic surgery use social media to showcase their new look or recommend a procedure or surgeon.
"Social media has definitely caused a widespread growth [of plastic surgery]," Dattatreya said. "It gave plastic surgery and certain procedures a kind of hype." This informal connection and lessened formalities between patient and doctor has revolutionized the way our society views plastic surgery, its risks and, most importantly, its rewards.
Societal Pressures and Emotional Impact
When certain people look at themselves in the mirror, they only see their imperfections. Perhaps, it may just be
in the "eye of the beholder," but for others, plastic surgery can help lift them from depression and anxiety by restoring confidence in themselves. Feeling good about one's body can boost self-esteem. Trauma patient's or patients with congenital defects oftentimes struggle to accept their bodies and feel insecure. So, for many Americans, a little bit of surgical change can alter their lives and make them feel better about themselves.
Rod Rohrich, a Dallas plastic surgeon and founding member of the Dallas Plastic Surgery Institute and the Alliance in Reconstructive Surgery, believes that plastic surgery can help alter lives and change mood and anxiety levels. "[Plastic surgery] is life changing for people who want to look and feel normal again," Rohrich said. Like Rohrich, Hurley works with patients who want to boost their confidence and self-esteem, but she focuses more on non-surgical alternatives, such as fillers and botox. "They look in the mirror and want to feel good about themselves," Hurley said. "[People] want non surgical alternatives that can take years off and make them look a little more fresh."
As these procedures are becoming more accepted, Hurley sees younger and younger patients walking in her door, often striving to take preventative measures against aging in the future with botox and fillers. "Most of my patients are in their 40s and up, but I'm seeing the average age decrease," Hurley said. "I have patients in their 20s all the way up to 80 years old. They just want to prevent lines."
In fact, the American Academy of Facial Plastic and Reconstructive Surgery reported that there was a 40 percent increase in patients in younger generations wanting to look better to boost their online presence. "I like to listen carefully to what their concern is, and I want to address their concern while not doing anything inappropriate that doesn't need to be fixed," Hurley said. "I think it's important to say no when one of your patients doesn't need it so that they look natural. [Patients] need to set their expectations carefully." People are quick to rush to surgery as the only fix to their imperfections that they notice about themselves. "Just because you can, does not mean you should," Rohrich said.
While it may seem like a quick fix, the need to feel and look perfect can lead many people down the path of getting more cost affordable surgery. This can be detrimental as it leads people to consult with doctors that aren't board certified or get poor quality surgeries done in foreign countries where the cost is cheaper. These procedures have to potential
to end up being botched, and instead of helping with a patient's mental health, it furthers their insecurities about themselves. But in a world where aesthetics matter to many people, a quick fix or change can drastically alter a person's life.
Social Media and Celebrity Influencers
In this increasingly digital age, the likes of Kim Kardashian, Kylie Jenner, Scarlett Johansson, Angelina Jolie and many others have become popular topics of conversation in many consultation rooms across America. These social starlets' natural and unnatural looks have set standards for the beauty community, which projects onto patients. Social media influencers and A-list celebrities alike have inadvertently set goals for the public that, for many, become unattainable. People want to become more and more like what they see online, which for some, leaves them with a lost sense of individuality.
Hurley knows this all too well. "There was a study by the American Academy of Facial Plastic and Reconstructive Surgery that reveals 31 percent of procedures are due to patients wanting to look like people online," Hurley said. People often come in to see Hurley baring pictures of Kylie Jenner's lips, wanting to achieve the look that she has put out on the internet for her followers. "I still see people coming for lip fillers everyday, all day," Hurley said.
But unfortunately, not all features seen on social media stars that patients try to imitate look good on everybody, since these specifics looks can not be best suited for all patients' faces. "I see many patients coming in, wanting to emulate certain social media celebrities, but often that is not a good thing," Rohrich said. "For example, if you love the nose on Angelina Jolie, it may not look good on you, so each must be individualized for that person's own beauty and facial features."
Influencers are no longer scared to admit to getting procedures done, displaying their work over social media for their surplus of followers. These influencers have a vast reach and when they endorse plastic surgery procedures, the field continues to become more popular, while they bolster their own social media presence. "I have numerous social media influencers and IG and Facebook stars that I have performed fillers and botox as well as other procedures like rhinoplasty to enhance their online presence and influence," said Rohrich. "With the rise and increase of the influence of the millennials, it will be increasing exponentially in the next several years."
Social Media's Effect on Plastic Surgery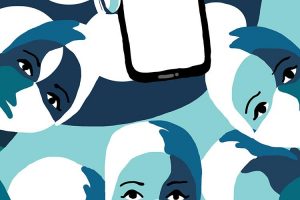 Just as their procedures are rapidly advancing, paving the way for further medical breakthroughs and discoveries, surgeons' modes of communicating to an ever growing audience are advancing at the same pace. Rohrich is a firm believer in the power and influence of social media within his field and has also noticed a trend towards online activity and patient engagement. "Up to 20 percent of my patients see or hear about me through Facebook and or Instagram today, and that is skyrocketing now due to the rapidly changing face of social media," Rohrich said. "The internet has transformed all of medicine. No longer do patients or consumers ask their family doctor first—they go online to find a doctor to suit their needs."
With over 37,000 followers on instagram, ranging from fellow medical professionals to current or previous patients, Rohrich knows how to wield his social media presence like a pro. "The reason more and more plastic surgeons use social media is because that it is where most consumers that are 40 and under look for health care expertise and information today," Rohrich said. "It is amazing how that has changed in the past three years as more and more consumers seek to learn how to get best care and best health care information online."
While Rohrich, like many leading-edge plastic surgeons, utilizes his social media accounts responsibly, conveying the inherent risks that comes with a medical procedure, as well as the obvious rewards, social media can be and has been misused. "[Social media] is a double edged sword," Rohrich said. "Often times, physicians who masquerade as plastic surgeons do so with fake boards and don't tell the consumer who they really are. That is problematic for all of us, especially for the consumer who can get in harm's way."
But like almost all medical professionals, Rohrich knows the importance of researching your potential plastic surgeon when social media doesn't display all the facts. "You need to be very savvy and do your homework to find a real expert in what you want done," Rohrich said. "You must have the three e's: expertise, experience and be able to show exceptional results in what you do."
Hurley also has noticed the rise in social media's presence in her own field of cosmetic dermatology. "I think that social media is going to continue to play a role in the influence of cosmetic and plastic surgery," Hurley said. "I think people are going to continue to use the platforms. That's how this generation gets their content." From cosmetic dermatology to plastic surgery, these medical professionals agree that this new sense of hype around plastic surgery is beneficial in fighting any stigmas surrounding their field. "I think there is less stigma about these procedures. Many years ago not that many people did botox, but now it is so mainstream that everybody is now doing it," Hurley said. "[It] made these procedures more acceptable."
Where Does It Go From Here?
Social media is undeniably making its mark on plastic surgery, and for surgeons and patients alike, it's not necessarily a bad thing. The plastic surgery industry is defined by its growth and innovation, with social media being just another step in its long journey towards perfection. This normalization of plastic surgery also brings up some complicated questions concerning society's beauty standards and its high visual expectations.
"[Social media] is making plastic surgery more realistic and practical for all to consider, which may change your looks, improve your facial features and make you feel and look better," Rohrich said. "It will not necessarily change your life. That is entirely up to you." If used responsibly, plastic surgery is a beneficial tool that can help willing patients to embrace their bodies more positively, empowering people from all walks of life to make the changes that they want to implement to their physical appearances.
"It has to do with beauty, and I think people are in search and on a quest for the ideal beauty image. From the beginning of time women and men want to look better," Hurley said. "The goal is to look a little refreshed and not take it too far. It's an elective procedure, and they want to remedy it."
---
Story by Paige Halverson and Sahasra Chigurupati
Photo by Paige Halverson