An Inside Scoop of our NYC Trip
For those of you confused as to why so many girls were absent last week or curious as to why so many pictures of New York City appeared on your Instagram feeds, The Fourcast is here to give you an inside look of the Columbia Scholastic Press Association Conference (CSPA) trip which publication juniors attended. The conference is held annually at Columbia University in New York City and is a great opportunity for yearbook, newspaper and literary magazine students to learn more about journalism and have their publications critiqued. The Fourcast was present from last Tuesday to Saturday, and would love to give you the inside scoop of what went down!
Tuesday, March 19: Welcome to New York
After a long day at school last Tuesday, Mrs. Patel, Mrs. Yoshii, Mrs. Townsley and the 15 girls going on the trip met in the LLARC to head to the airport around 3:45 p.m. We made it to the airport, checked in with security, saw former First Lady Laura Bush at DFW and arrived at LaGuardia airport around midnight.
We caught our first glimpse of the city that never sleeps while we were chartered to our hotel in Times Square.
Wednesday, March 20
Having to wake up less than six hours after we arrived at the hotel, the Fourcast, Cornerstones and Vibrato girls felt a little sleepy-eyed before venturing to the conference for the first time. We took the subway to Columbia, checked ourselves into the conference (and were able to take some free merch, such as my AP style, "pics or it didn't happen" buttons) and split up to attend various sessions.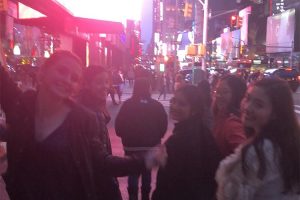 The sessions ranged from tips to learn about Photoshop and Indesign (the online programs we use in publications), to talking about fake news, controversial writing and tips with taking photos. If for some reason, you are very interested in learning about various programs at CSPA, you can click here.
We broke up for lunch (we could go anywhere by ourselves, as long as there were at least three people per group) and got to explore around campus before the afternoon breakout sessions. Each day had this same setup.
At the end of the day, we all reconvened at Columbia's iconic Alma Mater steps and finally headed our way back to the hotel after a short subway incident. We quickly freshened up and grabbed a bite to eat at a cafe by our hotel before walking over to the Music Box theater on Broadway to watch "Dear Evan Hansen."
Thursday, March 21
After following the same schedule on Thursday, eating lunch at a few places like Sweetgreen (come to Dallas, please), exploring Columbia's surrounding areas and hurrying back to the hotel, we ventured out to the World Trade Center and 9/11 memorial. Some of us explored the 9/11 museum while others went shopping at the Oculus Mall nearby.
We all ate dinner together at Shake Shack and returned to the hotel in preparation for the final day of the Conference.
Friday, March 22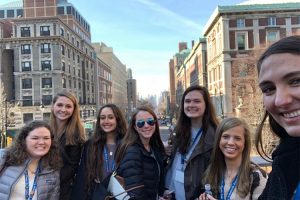 Because the Conference ended on Friday, breakout sessions were only scheduled for the first half of the day. One of my favorites that many girls attended was hosted by the journalism teachers at Marjory Stoneman Douglas High School in Parkland, Florida, and they talked about their lives after the tragic shooting there last year and how their publications reflected it.
We had a longer lunch break that day and returned to Columbia around 2 o'clock, just in time for the awards ceremony. Hockaday did very well this year, and our publications received Silver and Gold Crowns, very prestigious awards for high school publications! So give your journalist friends a pat on the back 🙂
Since the day ended a little early, we had more time to explore! We all went to the Museum of Modern Art (MoMa) and ate dinner at a restaurant in Little Italy after having being fought over by two competing restaurant hosts. After some yummy Italian food, we headed over to the subway station to return to the hotel for our final night of rest.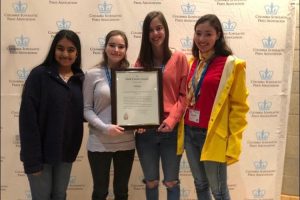 Surprisingly, we all faced a little problem on the subway: after about a stop into our journey, the train stopped and tilted. We stood motionless for roughly 15 minutes before traveling, slowly but surely, back on track. We ended up stopping a few more times. Once we finally started moving, however, we witness a subway fight that resulted in an arrest. While it sounds rather bland as I'm typing it out, our final subway experience was actually quite exhilarating. 
Saturday, March 23
We left our hotel around 10 am and headed back to LaGuardia, where our flight was delayed by a few hours. Of course, us Hockadaises took the opportunity to do our homework. After finally taking off, we arrived safely at DFW and parted ways after our fun five-day trip!
---
Post and photos by Eliana Goodman