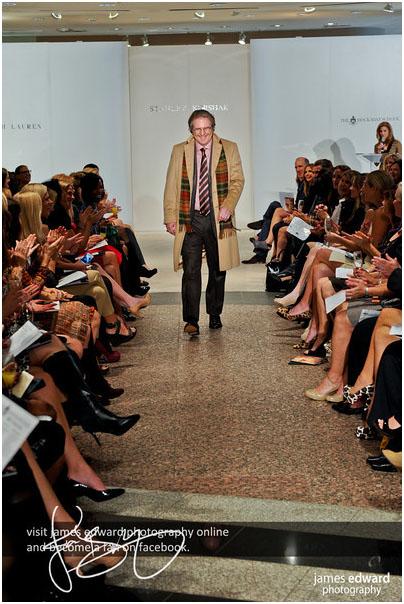 On Oct. 26, Hockaday parents and faculty came together at Stanley Korshak to kick off the store's annual benefit "Best of Fall" and to preview this year's top designers' collections.
Hosted by the Hockaday Parents' Association and Crawford Brock, longtime owner and president of Stanley Korshak, the show opened with 20 pieces from the Ralph Lauren fall trunk show and continued with pieces from big-name designers including Lanvin, Missoni, Versace, Roberto Cavalli, Etro and Carolina Herrera.
Despite the stunning new looks of fall, the faculty members and parents were still by far the most exciting models to have rocked the runway.
Fox Four news anchor Heather Hayes took the stage to introduce the following faculty guest models:
Darin Jeans, 6th grade history teacher, strutted in a Robert Comstock jacket and pant pairing with "constitutional" confidence.
"All of the faculty and parents had a great time back stage, and I sincerely hope we didn't make a mockery of ourselves in comparison to the professional models," Jeans said jokingly, "but all of us love helping the school in any way we can."
Steve Kramer, upper school history teacher and American history aficionado, braved a whole new world in Kiton without wearing his infamous corduroy pants.
Peggy Bradley, interim lower school head, rocked a red Alice + Olivia dress.
Tina Slinker, athletic department head, took to the catwalk for the very first time but looked like a pro as she struck poses in Willow and KaufmanFranco pants.
Orlando Greene, el maestro del español en séptimo grado, anduvo la pasarela con confianza y fue vestido con ropa italiana diseñada por Brunello Cucinelli.
John Ashton, Upper School Head, looked suave in a bold plaid Isaia sport coat and Incotex slacks.
"It was very fun to be a part of an event that brings parents and faculty together for a great cause," Ashton said. "And I really enjoyed the student involvement in the event, which is something that has never happened before."
And Linda Kramer, middle school head, rocked out the end of the show in leather boots and curled hair as she strolled down the catwalk in Haute Hippie.
In addition, parent models included Sharon Youngblood, Ann Wood, Pushpa Anand, Julie Kim, Lizzie Routman and Megan and Casey McManemin, who each boldly strode down the runway in support of Hockaday's Ela Hockaday Fund for Faculty Excellence.
As the fashion show came to a close, faculty members and parents left the runway for a luncheon at the Crescent, where Eugene McDermott Headmistress Kim Wargo put her women's studies degree to use by providing a pertinent speech about the day's activities, which were all about celebrating women and fashion. She spoke about the transformations undergone in women's style as they pertained to the changing roles of females throughout the past two centuries.
The theme continued throughout the rest of the event with the distribution of gift bags that featured products from local Texas businesswomen and a special fashion edition of the Fourcast.
Be sure to pick up a copy today!