Picture Perfect
Since Hockaday's roots in 1913, the school has housed priceless art pieces. Ela Hockaday herself was an art collector and befriended famous artists such as Gertrude Stein. Even after the move to the current Welch Road Campus, Hockaday owns a lot of valuable art, a little-known fact that can often come as a surprise. Here, The Fourcast is giving an insider look at the history behind some of Hockaday's most beloved art pieces. Upon reading the inside scoop regarding art pieces at Hockaday, The Fourcast encourages its readers to walk around campus and admire the beautiful paintings.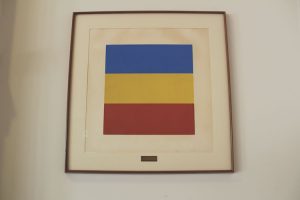 Spectacular Stripes
Hanging in the Whittenberg Terrace sits a prized Ellsworth Kelly. The art piece, which is striped with color blocks, characterizes Kelly's hard-edge period style which emphasizes lines, color and form. His piece, titled Blue/Yellow/Red is located to the right of the fireplace in the teacher dining room and often goes unnoticed. Kelly's piece was gifted from the class of 1958 after it was painted between 1970-1973. It is a small piece with three bars of color and resembles other Kelly works in prestigious museums like the Museum of Modern Art. Kelly belonged to the color-field movement in American painting and gained inspiration from painters like Rafka. The goal behind many of his paintings, including this one, is to evoke emotions in his viewers using color.
First Impressions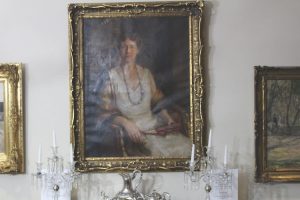 Delicately stroked lines of a woman wearing shaded white blouse catch guests' eyes as soon they enter the Memorial Dining Room; esteemed painter William Merritt Chase's "Portrait of a Young Lady in a White Blouse" is arguably one of Hockaday's most famous paintings. It highlights Chase's perceptive use of color, fleshy tones and portraits of sitting men and women. Chase, who was prominent during the Impressionist movement, is known to be one of the most famous American artists. Many art scholars often travel to Hockaday just to see this piece to study Chase's techniques.
Beautiful Bluebonnets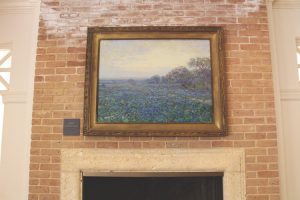 Nicknamed the "Father of Texas Painting," Julian Onderdonk was an impressionist painter known for his landscape pieces in the early 20th century from around 1911 to 1922. Hockaday houses two of his paintings of bluebonnets, located in the Memorial Dining Room and Whittenberg Terrace. He has a small painting, which looks completely blue from afar in the Memorial Dining Room and a larger one above the fireplace in Whittenberg. In his work, Field of Bluebonnets Under a Cloud Sky, the painting above the fireplace, Onderdonk uses color techniques to highlight a glorious, classic Texan bluebonnet field. Hockaday also owns similar paintings by Texas painter Frank Reaugh.