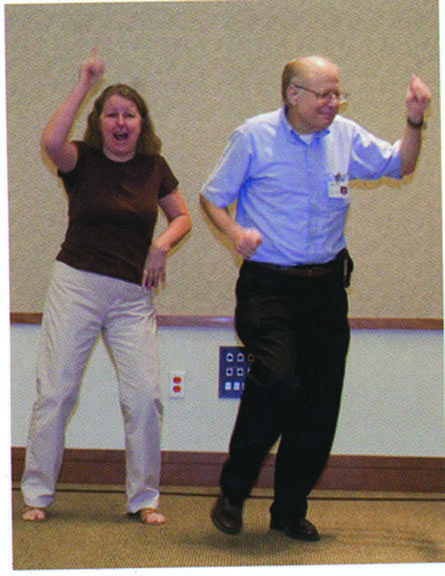 As Hockaday edges closer to its centennial, students and faculty have begun to reflect on individuals deserving of recognition. With such a vast history, Hockaday could choose to acknowledge the impact of hundreds of people over the years.
But ask any faculty member, and late Math Department Chair Richard Dubsky would definitely be their shining example of a person who truly changed the school for the better.
"It's only fitting to honor him and his legacy," Upper School math teacher Janet Reeves said.
On Sept. 29, 2011, the administration announced to the board of trustees, faculty and staff that an anonymous donor had pledged a $1 million contribution in honor of Dubsky, who died from a battle with lymphoma in late Sept. 2008 after a twenty-one-year career at Hockaday.
The gift was fulfilled over the summer and will benefit the financial aid of middle class students.
"Financial aid is one of our big pillars moving forward for fundraising. We give over three million dollars for financial aid every year and hope to continue that," Director of Annual Giving Keturi Beatty said.
The anonymity of the gift serves to place the focus on its honoree and the opportunities it will provide girls.
"His vision of math embraced all of the departments. He would be the first to say that a math problem had a beauty and an aesthetic component," Fine Arts Department Chair Ed Long said. "He let mathematics resound through all parts of the school."
"The donation supports the commitment of faculty to students," Mr. Long said. "I think particularly that since it was made for scholarships for middle class students, it's a high honor for the whole faculty as well as the memory of Mr. Dubsky."
After initially applying for a position in the physics department, Dubsky was encouraged to work in the math department, staying for a total of 21 years at Hockaday. The beloved Math Department Chair devoted himself to students in all age groups and levels of mathematics.
Upper School math teacher Jackie Girard joked, "He really challenged the advanced students, but he would come back, laugh and say 'I taught the pre-schoolers calculus!' He was the math man around the school and everyone knew him."
Dubsky lived passionately and invested himself totally in each student. With his daughter Diane graduating in 1996, Dubsky developed a special empathy and understanding for each girl, not just for the student. He became the go-to teacher not just for math problems but also for a chat.
"You never knew whether he gave his best service to the most advanced math students doing multi-variable calculus, or those who were floundering in difficulty," Long said of his close friend.
Dubsky cared deeply not only for students but also for his fellow teachers. Throughout his entire career at Hockaday, Dubsky made it a high priority to make those new at the school feel welcome. Before founding the mentoring program for new faculty, Dubsky took this responsibility upon himself, mentoring every new faculty member that arrived in the Upper School.
"He really just liked sitting down one-on-one with people. He would drop everything and listen, knowing immediately if something was wrong," Girard said.
He never limited himself (he decided to teach Algebra I one year and did not let anyone stop him), and through this, encouraged girls to do the same.
"He soon decided he was a better fit for advanced classes, but was never afraid to try," Girard said.
Dubsky remained committed to his students until his death in 2008, leaving a legacy that endures in the thoughts of his students, a legacy celebrated with this recent donation.
"Mr. Dubsky always challenged us and pushed us beyond what we thought we could do," Emily Campbell '04 said. "His effectiveness as a teacher can be seen in the fact that every single student in his AP BC Calculus class in 2003-04, of which I was a part, got a 5 on the AP exam. But to us, his students, Mr. Dubsky meant much more than that."
Long put it best in his speech at Dubsky's memorial service on Nov. 19, 2008: "I had the compelling feeling that it was always Richard extending his hand as he always had–extending his welcome, extending his vitality and his oh-so-animated self," describing a person who truly educated  others simply by being a role model.
As a teacher, Dubsky taught more than functions and derivatives: he also showed his students and peers that compassion does not discriminate but extends fully to embrace everyone, just like he did.
– Katie