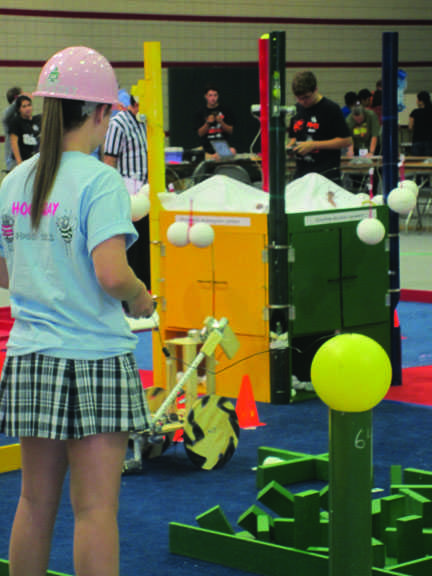 JETS hampered by challenges late in the construction process
"Your mission is to design a robot that will assist in the return of these prized insects."
Passers-by overhearing this computerized voice sounding from Hicks on Sept. 17 may have been concerned about some unfortunate, Jurassic Park-like scenario, but the orders they heard were in fact describing the objective in this year's Dallas BEST challenge, held at the University of Texas at Dallas on Oct. 29.
Boosting Engineering Science and Technology, commonly known as BEST, is an organization devoted to supporting engineering education for high school students by hosting competitions throughout the U.S. each year.
The Hockaday Junior Engineering Technical Society team (JETS) competes annually in the Dallas branch of the competition in which each team constructs a robot to complete a given task. This year, the objective was to collect "insects" made out of materials such as Styrofoam and move them to holding areas while navigating obstacles such as pieces of wood, cones and PVC pipes.
At last year's regional competition, the team barely missed advancing to the final round of regional competition, placing 8th among Dallas teams.
"The competition last year was harder than usual because the objective was so complex," said senior Giovanna, who has been in JETS since her freshman year.
This year, the team faced even greater challenges. When the robot's arm, which picks up the bugs, broke just days before the competition, the team had to improvise and engineer a new arm on short notice.
"Having to deal with the adversity, like how Thursday night the arm breaks and you have to fix it—it's all that problem solving skill that I think is… one of the greatest things about this whole program," Head of Upper School John Ashton said. He attended the competition to cheer on the Hockadaisies.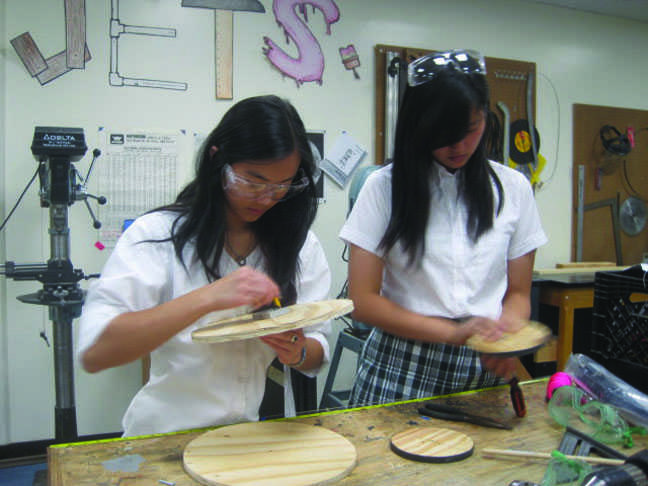 Despite their best efforts and many nail-biting moments, including getting an insect only a foot or two from the holding area in one round, the team was unable to pick up insects effectively with the new arm and did not score points in the contest.
There was an important team win however.   Pete Lohstreter, a teacher sponsor for JETS, received the Outstanding Teacher Award, having been selected for the honor based on nomination letters sent in by students.
"We know he has a lot on his plate right now, but he still takes the time to help us out," Giovanna said. Lohstreter would often come to the team's meetings multiple times each week to help them design and build their robot.
Despite the team's struggles, it remains an integrel component of Hockaday's science, technology, engineering and mathematics (STEM) program. "[JETS is] the only engineering group we have, operating outside of the one engineering class that we have," Science Department Chair Dr. Beverly Lawson said. "We have this big STEM initiative, and engineering is a key piece of that."
JETS president Natalie has high aspirations for the future of the club. "Hopefully JETS would expand to be a year-round program, because right now we focus mostly on [BEST] in the fall," she said. "This year we're attempting to enter a competition called ExploraVision and hopefully that will carry over through the winter. We want to… have the spring semester be training time, a time when we can recruit freshmen and teach them new skills so that when we enter into the following year, the leadership is already in place."
– Mollie