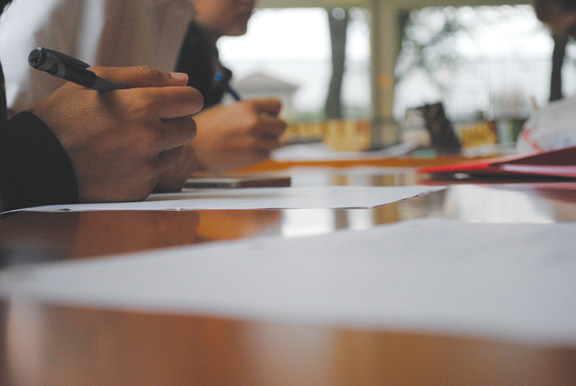 Community Service Board takes on new responsibility in regulating clubs
Stepping onto Metzger plaza the day of the yearly club fair, it's nearly impossible to attack the mass of posters covered in bubble letters, bags of candy and aroma of baked goods in an orderly fashion.
This year, in place of the overwhelming concentric circles of girls advertising signs and handing out candy that usually accompanies the club fair, there were two smaller-scale events, reflecting a new system for club organization and leadership.
To create an easier and more structurally sound system for the expanding list of clubs, Hockaday has implemented a new form of organization, separating the community service clubs from the recreational ones.
Having split up the club fairs by topic, the community service club fair was able to provide more than just information about student- run service clubs but also about organizations active in the Hockaday community, such as Mentors in the Community, Legacy and Jubilee.
They even provided information from programs that Hockaday is not regularly affiliated with, such as Meals on Wheels, to try and attract more students.
This new set up "gives a lot more focus to community service clubs and makes people consider more what they're signing up for," senior Laura said.
But the community service club fair "[gave] a connection between the Community Service Board and the clubs" at a level that did not formerly exist, junior Catherine said.
These service clubs are now under entirely different leadership— the Community Service Board, rather than the vice president of Student Council. In order to fulfill these new leadership positions, the School Club Relations subcommittee was created last year, headed by senior Ellen.
"We're taking on more responsibility," Ellen said.
Service clubs must now follow regulations set by this subcommittee designed to make sure that the clubs remain active in the community as well as enforce monthly in-school meetings.
"So, now we make sure that they email us about their meetings, give us their minutes and [tell us] when they do events," Ellen said.
The changes are also affecting Director of Community Service Laura Day.
"I'll try to visit every single one of the groups at some point," Day said. "That way I'm a little more of an active presence in what they're doing."
These changes give Day new responsibilities that were not in the job description for the Director of Community Service in previous years.
As she begins to experience the new regulations with her club, co-president of Club for Children's Hannah witnesses how closely she works with the Community Service Board now.
One of the biggest changes she noticed was a shift in who sponsored her club. Instead of going to any faculty sponsor, Hannah is required to get service sheets signed by Day and to report to her with any questions or concerns regarding the club.
The greatest benefit to Hannah, though, is the effects that greater monitoring of the club may have.
"I think that a lot of [clubs] will try to have more activities more frequently to make sure they're keeping active," Hannah said.
Supporting Our Troops club co-president senior Sarah agreed.
"I think we're more motivated," Sarah said. "We want to advance the [club] as much as we can."
But the benefits seem to extend beyond the now. In preparation for the longevity of clubs in the future, this new system sets requirements that will provide strong foundations for a continuation of all service clubs.
To ensure this, Day believes that over time, the Community Service Board will add liaisons for popular and active service clubs at Hockaday.
"That way we will evolve in the interests of the girls," she said.
"I think it's a great thing." Ellen said. "Clubs will be able to withstand time, and that's the point of our subcommittee, making sure that these clubs succeed in the future."
– Caitlin