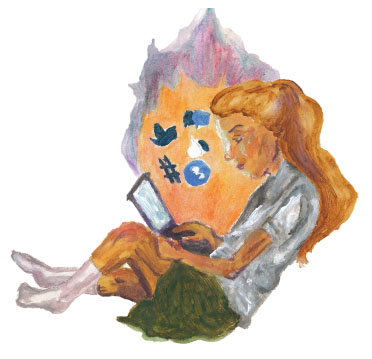 Students discuss the addictive appeal of Twitter vs. Facebook
As a tech-savvy generation, we're subject to the constantly changing computer lingo, but never did we think we'd see the day when people actually use the word "hashtag" or "prof pic" in conversation.
From its early origins in the Harvard community, Facebook truly began the social media revolution with a bang, connecting not only friends across campus but also family across the world—all on one website.
Contrary to the inception of Facebook, Twitter remained relatively under the radar for years, a techie haunt after its 2006 founding.  Until, led by Ashton Kutcher, celebrities (and their millions of followers) joined the ranks of tweeters, skyrocketing Twitter to international fame.  Point in case: Kim Kardashian, a devoted Twitter user, is the fifth celebrity to pass the 10 million follower mark.
Freshman Cameron said, "On Twitter, there are no limits to how many followers a person can have. That must be appealing to a celebrity who is trying to broaden their fan base."
Proletarian users have followed suit, seeking to gain voice and a dedicated audience. Here at Hockaday, Twitter accounts opening are springing up like, well, daisies. Girls with the ability to capture the hilarities and woes of being a Hockaday student in a humorous way have gained instant fame in the Upper School.
This space to laugh, reflect and relate to one another fulfills a purpose that Facebook has never been able to do.
Junior Camille said, "I complain about the funny things that happen to me because I know others will appreciate it, some having been in the same situation before, and Facebook just isn't the place for that."
The stakes when posting a status seem to be much higher on Facebook as a person's social network is twenty times as big. The average amount of Twitter followers ranges from 40 to 50 for a normal Upper School student, whereas on
Facebook, students have an average of 550 friends.
Junior Ellen said, "It's okay to be a little annoying over Twitter. It's basically implied if you're going to make the effort to tweet."
As Facebook posts become trite, Twitter serves up a new recipe to make the "status" update relevant again.
"It's a more casual type of updating to share with your actual friends. I feel as though people rarely follow those who they have no idea who they are," said frequent Twitter user sophomore Tai.
Still, Facebook users admit to the secret excitement they get when a "friend" likes their status or profile picture.
"Everyone loves compliments, and you're always flattered when you get one in person, but when you get one on Facebook, it is there forever and all of the Facebook world can see it," Ellen said. "While the face-to-face compliment may be more sincere, the surface-level Facebook compliment is known to all who stalk. Though it only shows one little part of your life, it the part of your life you want others to see."
But not everyone gets 72 "likes" on their Facebook profile picture. Most girls get only a few.
"If someone already has a million likes on a profile picture they uploaded 34 seconds ago, it's difficult to not get down on yourself because yours doesn't," junior Hannah said.
For most girls, their confidence level depends on how many "likes" they get on their status or profile picture. Many constantly check their notifications, hoping for one from that boy down the street they were crushing on.
To an outsider, the number of "likes" someone has direct correlates to their popularity.
Facebook profiles reflect their owners' identities, and girls find it hard not to pass judgment based on Facebook walls.
But Twitter eliminates the pressure of "fitting in" or trying to create an attractive image of oneself for others to see.
"Twitter is the best. It's like an online diary where you can post embarrassing things and pretend people don't judge you," Hannah said. "Comments and likes on Facebook are great and all, but when Justin Bieber retweets you on Twitter, it's better than Christmas."
– Katie