Seniors welcome grad speaker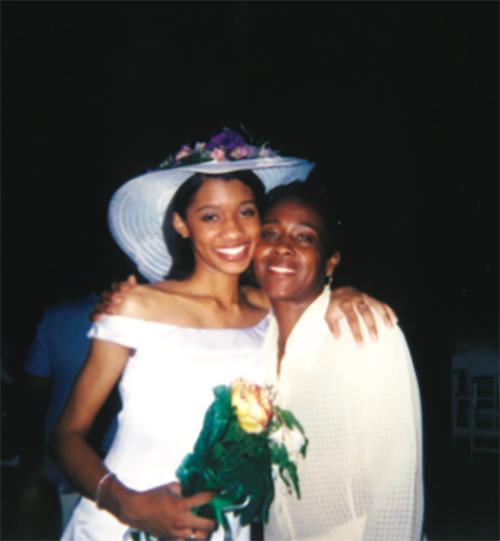 //PICTURED ABOVE: Alumna Kristin Tucker poses with her aunt at graduation and her mom at ring day.
---
In 1999, Kristin Tucker addressed her classmates as the student graduation speaker. Now in 2020, she will address the class of 2020 as the guest graduation speaker in such an unprecedented time.
"It will be really great to be back and to see it from a different perspective and especially to be there during this time which is like no other," Tucker said.
After graduating from Hockaday, Tucker attended Georgetown University as an International Business major. However, she transferred to the University of Southern California to pursue her interest in communications with a focus on entertainment. She went on to receive her Master of Arts in Screenwriting from the University of Texas at Austin. 
Throughout her career, she has written for television shows such as  Disney Channel's Dog With A Blog, This Functional Family and A Black Lady Sketch Show. As well, she was the writer's assistant on Black Monday and a Netflix project produced by Kevin Hart's production company (Hartbeat Productions).
Tucker's qualifications speak for themselves as the winner of the sitcom division of Scriptapalooza, one of seven comedy semi-finalists in the Austin Film Festival, one of six comedy finalists for the Warner Bros. Television Workshop and finally as a writer with NBC's Writers on the Verge program.
Not only have the seniors left campus due to the pandemic in the spring, but they have also dealt with the disastrous tornado in the fall. Now, with commencement postponed to Aug. 1, the seniors look forward to their Commencement speaker.  
"At this point, I am just grateful because I know a lot of schools have moved to an online alternative or just canceled it altogether, so the fact that they are trying to preserve as many special events as possible has made me grateful for Hockaday," Meg Wilson said. "I don't think anyone can give us better worldly advice than someone that has gone to Hockaday." 
Senior Hannah Taylor, a student for 13 years, shares similar feelings of gratitude, knowing that Tucker understands the uniqueness of Hockaday graduation.
 "I loved it when she came and spoke during the Founder's Day Assembly a couple of years back. She was so interesting and dynamic, and she'll be perfect for graduation," Taylor said. "I also think that an alumna speaker for graduation this year after the bizarre year will be great. She understands the traditions very well and everything that makes senior year at Hockaday so special." 
When Tucker was first asked in February, she, like everyone, was unaware of what was going to happen to our world.
"It wasn't until the announcement went out that I was like 'oh,  this is real'," Tucker said. "Then I got really nervous. I had to check myself, and know that I am capable of [being the Commencement speaker]. After that, I was really excited."
---
Story by Kate Clark, Managing Editor
Photos provided by Kristin Tucker