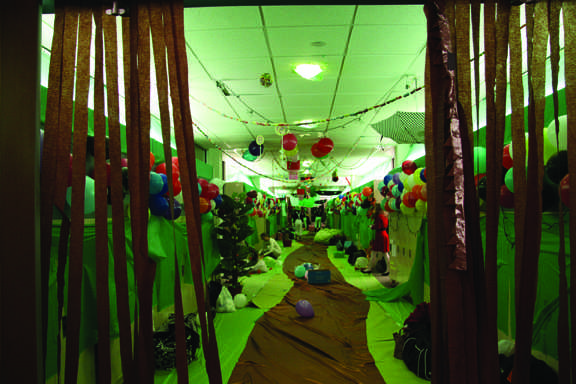 Behind the scenes of Hockaday's Halloween tradition
Walking into the Upper School on Halloween morning, students felt chills run up their spines as they anticipated the terror they were about to encounter. They expected spiders, ghosts and zombies perhaps, but instead they found… chocolate bars?
This year's Willy Wonka theme surprised many with its lack of scare-inducing tactics. In years past, seniors have employed grisly props, blood-spattered costumes and startling pop-outs to frighten the underclassmen.
There was little of that this year. Instead, Upper School students found gumballs, chocolate rivers and fizzy lifting drinks galore.
Many students objected to this change.
"The theme wasn't scary enough. It was definitely cute but I wish it was scarier," senior Coco said.
According to a recent Hockaday Upper School student body poll, 68 percent of seniors agree.
Some, however, think that the change in tradition is a good thing.
"The scary themes are sometimes a little off-putting for people," senior sponsor Colleen Durkin said. "I think that Halloween should be a fun thing and we shouldn't have people in tears and afraid to walk to class."
Another dissimilarity in this year's Halloween was the planning and execution of the theme.
"Our process was completely different from normal years," Durkin said. "Normally people present themselves with the theme and then you pick the theme and the person together as a unit."
This year, however, the senior class elected Megan to plan Halloween during the senior retreat prior to discussing themes.
Megan wanted to create a legacy that would last well beyond graduation and implemented a different planning process than years past.
"We've kind of discovered the process as we've gone," Megan said. "It's definitely different from anything any class has ever done before."
The difference lies in the decorations. Never before have seniors rolled out 100 yards of bubble wrap in the hallways, painted the majority of their grade's faces orange or chewed over 600 pieces of gum to stick to the bathroom walls.
"I really liked the decorations," junior Natalie said. "They really made the theme come alive. I just hope that my grade does as good of a job next year!"
– Catherine