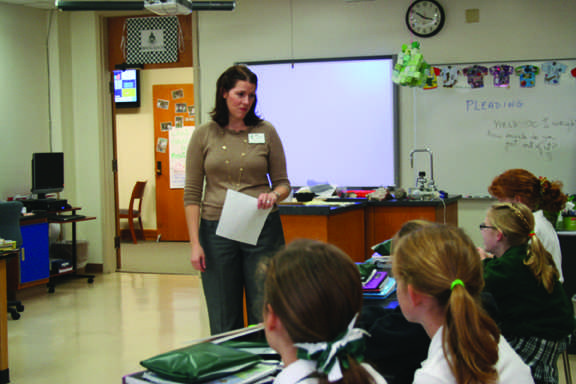 Dr. Katie Croft brings her research skills and a new lab called Gold Rush to fifth grade science
Upon entering fifth grade science teacher Dr. Katie Croft's classroom, nothing appears out of the ordinary. There are various projects hung on the walls and sitting on the back counter. There are desks and 15 fifth graders seated on stools. As any teacher would, Croft starts her class with a "good morning, girls," but that's where the similarities end.
Her teaching style of using the Socratic Method to elicit information from the girls rather than lecture them hearkens to her background as a research scientist.
During her undergraduate years as a Microbiology major at the University of Colorado at Boulder, Croft worked on an honors research project with the guidance of her professor, Dr. David Prescott.  Not only a mentor, he was also like a grandfather, Croft said as she spoke of her recently deceased professor.
"He is one of the reasons that made me want to go into science," Croft said.
With his help, she studied DNA processing with ciliates, a type of microorganism in pond water.
However, this "rewarding and powerful experience" was only the beginning of Croft's education in science.
As a senior in college, she took an elective called Brain Thought and Action, which sparked her interest in neuroscience.
"I just got hooked," Croft said.
An undergraduate program for neuroscience didn't exist at the time, but she liked the idea of pursuing that field.
After a few years off, she went to the University of Iowa to pursue a PhD is neuroscience. Because her office was in the neurology department of the university hospital, her work was completely hands-on: she actually got to study the patients who walked down the halls. Specifically, she studied behaviors of patients with frontal lobe damage from tumors and aneurism resection.
She then did a postdoctoral fellowship at University of Texas at Dallas' Center for Brain Health, a research satellite of the university, where she studied adolescent learning and reasoning abilities, trying to teach kids how to learn more globally and abstractly.
But like most philomaths, Croft's previous studies ultimately had to culminate in a real job. Fortunately, her job search coincided with a similar job search of Hockaday's, and Croft secured a position as the fifth grade science teacher.
Though it may not seem so, Croft's lab work and teaching Middle School science are one in the same: "you're actually doing science," Croft said, because the two are so hands-on.
With her "fresh eyes and insight," Croft brings the "latest ways of doing things in the world of research and science," Lead Science Chair and close colleague Richard Abbondanzio said.
Some of the more hands-on activities Croft has brought to the classroom include an Event Based Science Module called Gold Rush, which provides historical context and practical applications to a lab about the extraction of gold and other minerals. In all such activities, she expects precision and accuracy from the girls, for them to be conscientious of each step of the lab work. She makes you "want to work harder in her class," Croft's advisee fifth grader Ashna said.
The girls really enjoy this approach. "She shows us real-life examples that relate back to history, and makes science fun," fifth grader Margot said. "It makes me more interested to learn about science," Ashna said.
Her most noteworthy attribute is that she has experience in the scientific field. She welcomes questions and fosters learning, not just the acquisition of knowledge, but of "new knowledge," Abbondanzio said. She wants to make science accessible and relatable. She advocates STEM as a career path for her girls and "shares her experiences as a goal," Abbondanzio said.
Above all, Abbondonzio praises Croft's work ethic. "No matter how much you know or how good you are at teaching, you need to have that work ethic to make things happen," he said.
– Mary Clare