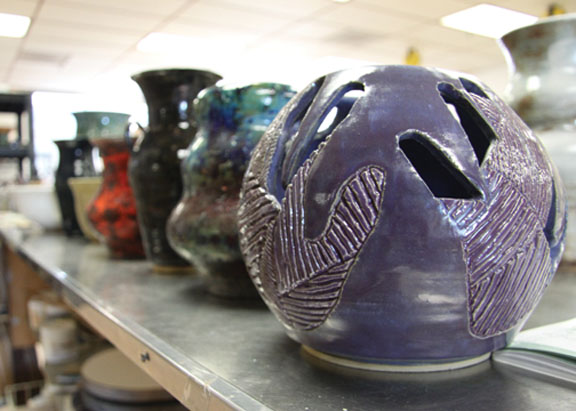 Eight o'clock in the morning every other day at school, senior Emily sits down at her pottery wheel, prepared bright and early to craft another of her unique ceramics creations. Throwing a large chunk of clay down, pressing her pedal to speed up the wheel, splashing water on her clay, Emily begins her day.  With no direction and no inspiration, she allows each masterpiece to become whatever her clay grows into, whatever her hands create.
Emily began taking ceramics at Hockaday not to become a master potter, but to get her fine arts credit out of the way. She recalled, "I liked doing stuff with my hands" but, to her surprise, "by the end of freshman year I never wanted to stop."
For Emily, what started as an obligation evolved into a meaningful hobby. Emily has won various competitions including one at Royal Lane Baptist Church where she won first place for student art work. In addition to medals, she has grown her fan base to include a popular collector in Dallas who discovered one of her winning pots at a competition.
Emily stumbled upon her signature early on. She began drawing embellished hands on her pots when she first sat down at the wheel 4 years ago. When she found that people liked the design, she incorporated it into most of her works. Instead of finding inspiration for her designs and working off a specific influence, she works with "whatever comes out of the wheel."
Emily is unafraid to push the boundaries of her knowledge and experience. One of her most recent creations is one that she's never made before: a teapot. Hockaday ceramics teacher Kevin Brady believes that these latest additions to her pottery collection are her best pieces.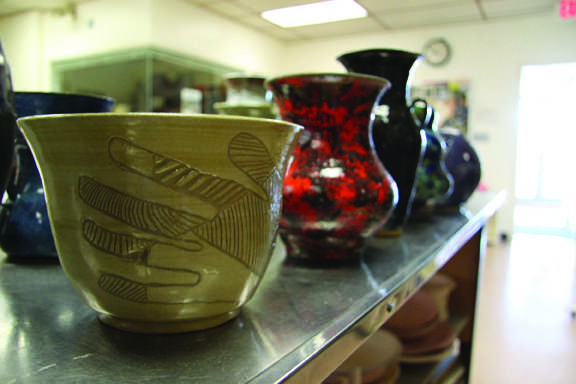 Teapots "are very challenging to make and she's done well so far with that," Brady said.
Emily estimates that she has made over 50 pieces over the course of her ceramics studies. Instead of collecting all of her pots in her house, she gives them as holiday gifts to her family.  She gave the aforementioned teapot to her mom and frequently ships off other works to her brother in college.
"I keep a bunch of [my pots] because my family loves them…my brother actually just went to college this year and he took several of my pieces. He's like, 'this is a cool conversation piece and also I love it,'" Emily said.
Brady said that Emily "is very focused on her success" and that her talent could take her to the professional realm of ceramics.  He believes that "she definitely has a passion for expressing herself through clay."
While she enjoys ceramics and would like to continue making more pieces, she does not intend to make a career out of it. "I don't know if I'm talented enough to make it a career," admitted Emily. She does, however, plan to minor in ceramics in college.
Just as each pot emerges from her wheel as a creative and welcome surprise, Emily's penchant for ceramics has blossomed from a newly-discovered hobby to an advanced talent 4 years later. But as Brady said, it has not only been her abilities that define her skill. What has propelled her and what will further her career in ceramics is her focus and dedication.
– Ansley