Social Media Activism or Slacktivism
The Student Diversity Board's First Forum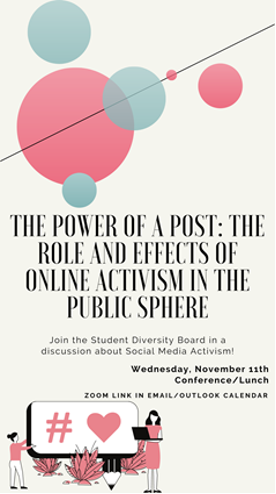 With the 2020 election and growing political awareness within Gen-Z, social media activism is at an all time high on platforms such as Instagram, TikTok and Snapchat. 
On Nov. 11, the Student Diversity Board hosted its first forum of the year on social media activism and its effect on public discourse. The topic of the Zoom forum aligned well with the current political climate and audience Sarah Crow, assistant chair of the board, said. 
"I thought social media activism was especially relevant after the election and all the activism we've seen this summer," Crow said. 
The board wanted to choose a topic people knew enough about to be engaged and feel comfortable talking, but also something people had multiple opinions on. 
"Our goal was to open participants' eyes to the different views and broad range of social media activism instead of telling them this is right or wrong," said Premanshi Agarwalla, SDB communications manager. 
The board tackled this topic in a different setting than they were used to. Pre-Covid, a typical Student Diversity Board forum contained a long presentation followed by discussion groups. This year the board decided to modify the format to make forums more interesting and interactive. The forum consisted of small discussion groups rotating through a series of mini presentations in breakout rooms, followed by a specific discussion. 
The new format allowed a longer discussion to share individual views, which for many was the highlight of the forum. Student Diversity Board Chair CeCe Tribolet commended the new format because it was easier for attendees to express their opinions.
"My favorite part of forums is always listening in on the small group discussions and hearing what each girl has to say," Tribolet said.  
However, new challenges accompanied the changing format. 
"Even in a normal forum, because some of the topics are foreign, it's hard to get people to start talking," Agarwalla said, "and it's even harder on Zoom where people can turn off their cameras and mute themselves." 
Preparations and the forum itself offered participants and board members new insight. 
"I learned that maybe something that's on social media is really good at going viral," Crow said, "but that doesn't necessarily mean it's the best thing for public discourse."