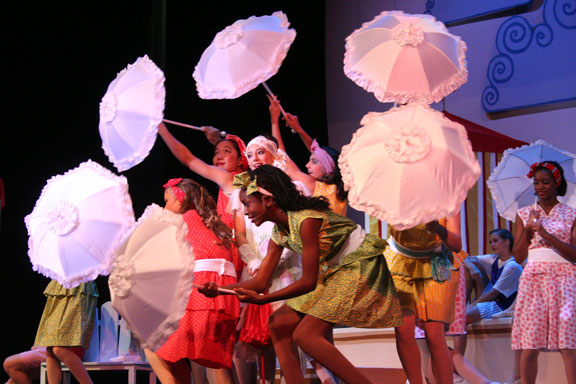 "Annie," "The Wizard of Oz," "Bye Bye Birdie," "Oliver," "The Boyfriend," "The Music Man.". An overwhelming majority of upper school students think that the shows  chosen for the eight grade musical are decided by  strict rotation that adheres to some mysterious pattern that can be figured out.  Others, like freshman Katie, think that "if the grade is good at a certain thing, then they can change it."
Not so, said Susan Hubbard, director of the eighth grade musical: "There's not, as everyone seems to think, a set, secret rotation."
Instead, she said, there is a master list of eight or so musicals which the directors narrow down to around two or three each year, based on what shows have not recently been performed.
As for tailoring the show to the grade, Bonnie Jean Coleman, middle school choir teacher and director of the musical, said they really do not know much about the girls until auditions.
Hubbard, Coleman and performing arts chair Beth Wortley, teach about half the girls through  seventh grade fine arts classes, but other than that, have no real way of judging their abilities.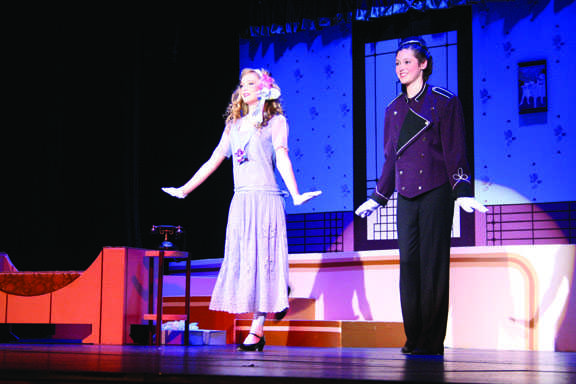 "You don't know until auditions what talents you've got," Coleman said, "and you can be extremely surprised."
So how, then, is the eighth grade musical chosen? First and foremost, Coleman said, "you have to think of something that's appropriate for that age."
Secondly, with a cast of ninety girls, they look for a show with lots of big chorus numbers.
Costumes are also an important consideration, Hubbard said. "You're not just going to walk into Goodwill and find yellow Who outfits all over the place." They look for shows that involve simple costumes that can be found in attics or used clothing stores.
While romantic plotlines  aren't necessarily bad, they can be problematic.
Coleman said, "Sometimes it's hard to get them to look each other in the eye."
And in terms of stage crew, technical director Robert Kallos said the directors look for a show with plenty of set changes to "keep the crew busy."
After all, all four directors said that the eighth grade musical is about getting everyone involved.
"For me," Kallos said, "Theater is about everybody."
And he really means everybody, from the actresses to the crew to the parents.
Coleman cites the importance of the girls gaining self-esteem and confidence in their abilities. Like Kallos, she also wants them to learn to work with their classmates and build a sense of community.
With all these things to consider, choosing the eighth grade musical is quite an undertaking. But, Hubbard said, "Every year it ends up being the right choice."
That choice is made easier by the fact that there just aren't too many musicals to choose from, since the list has stayed the same for many years.
Almost 80 percent of upper school students, however, think that new shows should be added. Junior Sophie suggested Grease: "It's literally all I've ever wanted," she said.
All the constraints make it difficult to add new shows, but there are various possibilities. Both Hubbard and Coleman said they're considering "Seussical the Musical," which was performed in Upper School last winter.
Wortley said they have a few new musicals in mind, but when asked what they were, she just smiled , "I don't think I can tell you."
Kallos was more forthcoming with suggestions. He thinks "Mulan" would be a great eighth grade show, as would the ever-popular "High School Musical."
"It's just a goofy show," he said, "I actually met Zac. That was exciting." Future eighth graders will almost certainly agree.
– Lizzie