Crazy for choreography
Dance returns with student-choreographed performances
The Hockadance end-of-year performance returned on April 27, with group performances as well as special solos from seniors. From the costumes to the production, the concert was coordinated and choreographed entirely by students.
Dancers have spent the year gaining experience and improving their technique, and now they have the opportunity to showcase what they have learned at the Nasher-Haemisegger Theater.
"The purpose of the concert is to build creative skills and to work on doing that either individually or as a group," dance instructor Christie Sullivan said. "Students are taking what they learned in the beginning of the year to use as a creative toolbox to make their own dances in spring."
For senior dance captain Veronica Fang, this is her third year participating in the concert and her third year choreographing a piece. This year, she choreographed a lyrical piece.
The job of a choreographer is one that involves many steps. First, the choreographer has to select the music, then they have to think of movements based on the music and finally they have to teach their choreography to others.
"Sometimes I have a block," Fang said. "It is similar to a writer's block, so it just takes a bit of thinking or taking a break from the choreography."
Dancers said teaching the choreography to fellow classmates could also be challenging.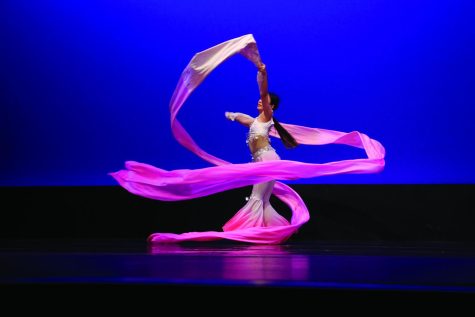 "For my dance, there were a couple of lifts," sophomore Avery Clarke said. "So it was a struggle getting everyone to know their specific roles and teachers had to help coordinate that."
It took Clarke an entire class period just to teach the lifts. However, she said that it is very satisfying when a piece finally comes together. When costumes, music and formations are combined, a piece is truly brought to life.
"I guess you have a general idea of what the piece would look like while choreographing," Fang said. "Just seeing it with all the people doing the transformations and partner works, it's definitely different."
Sullivan said there are also lots of other benefits of the annual student choreography concert, including enhancing students' leadership skills and familiarizing them with different styles of dance. Ultimately, it is a benefit for both the dancers and the audience.
"I hope the Upper School appreciates the vision of each student," Sullivan said. "It takes lots of effort from everyone to learn and perfect the dances – not just the choreographers but the dancers as well."