Sophomore Caroline wears her art on her nails
All of us at Hockaday have a creative outlet— writing, dancing, singing, etc.  For sophomore Caroline, it's painting her nails.
The phrase painting her nails doesn't do Caroline justice. Known for her eccentric designs, her nails are common talk around the school, and are followed by many on her tumblr, Naildreams.Tumblr.com.
"When I started [the blog] I used to do it two or three times a week, but when school gets busy it usually slows down from there to about once a week," says Caroline.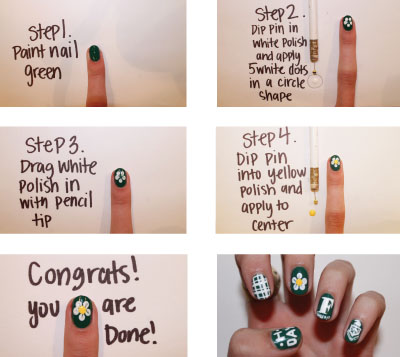 The blog's design can be described as minimalist– it has little distraction from the artwork of the nails.
"I love the simplicity of design, since there are no distraction to take away from the content it really showcases her talent," Fellow blogger and Hockaday sophomore student Tai said "It's so different than the typical content of tumblr, its much cleaner if that makes sense,"
Designs vary from tuxedos for formal dances to sailboats in the sunset, but all are a time consuming endeavor. Not to mention that the photography has to be done in a certain way in order to maintain the consistency of her style.
"The longest it ever takes me is about two hours. For homecoming, all my nails were different and I painted them to fit the monopoly theme. It's really fun and a de-stresser, it doesn't feel like work. "
What can be hard for Caroline is coming up with ideas for her nails. She uses other nail blogs for inspiration as well as the latest fashion trends.
"The more you do it, the more you realize how far you can go beyond nail polish. I use other materials like craft glitter and acrylic paint, as well sequins that you just stick on," says Caroline.
"You also realize that you don't need to have long nails to have pretty nails, I'm so tired of people telling me they don't paint them because they're 'short and stubby'"
Impressing many, her blog is followed regularly by a large portion of the high school.
"I stalk her blog all the time," jokes sophomore Meredith "I could never imagine being able to do something like that."
Caroline is also known for helping out girls before dances or special occasions, and doing their nails for them. She even aspires to potentially do it as a career.
"I really would love to make a profit [off] of doing nails. During the summer I don't have time to get a job with all my track workouts, and painting nails would give me the freedom I need. Why not make a business out of something I love?" Caroline said. "It would be especially great because anytime I got to a place like Ulta, I just can't help but buy a ton of polish. I'm like a kid in a candy store!"
Caroline also jokes that she's worried she might go insane from the smell of the paint. "I mean worst case scenario, I'll end up like Van Gough after eating paint for years. But you do what you gotta do for what you love."
– Molly