Hocka-history: Early graduation traditions
Ela Hockaday established commencement traditions that remain to this day
In 1915, The Ela Hockaday School for Girls sent off its first graduate, Mildred Liebman.
In "Graduation Day," Helen Knox Toll, class of 1926, writes that the school's first campus on Haskell Avenue happened to have a pergola covered with lovely roses. Ela Hockaday decided her school would have an outdoor graduation ceremony and the graduates would dress in white. This began Hockaday's commencement tradition.
When the school moved to its new Greenville Avenue campus in 1919, another pergola was constructed to ensure the ceremony could continue. Today, on the Welch Road campus, Commencement Terrace features a pergola  for graduation.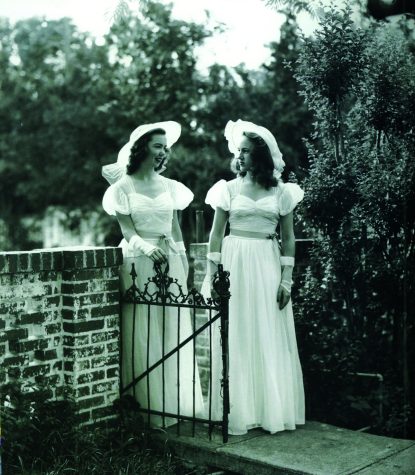 As Hockaday has expanded, so has its number of graduates. In 1915, Liebman '15 was the sole graduate of the Hockaday School. By January 1920, the number of Hockaday alumnae had grown to 45. In 1977, there were 77 members in Hockaday's graduating class. There are 121 students in Hockaday's class of 2022.
In addition to changes to size and location, there have also been changes to graduation apparel. Beginning with the centennial class of 2014, first-generation students are no longer limited to white hats. Last year, the administration changed the commencement dress code from requiring all students to wear matching white dresses to offering a robe and mortarboard option.
Over the course of its history, Hockaday has had numerous commencement speakers, spanning from heads of universities to First Lady Eleanor Roosevelt.
Judy Hicks Noble '71, who works in admission, said at her commencement there was no commencement speaker besides the headmaster. Also,  no one was nominated by the graduating class to give an address on behalf of the class.
"Those are very cool additions to the ceremony," Noble said.
While the school has undergone numerous changes since 1970, Noble said not much has changed about the commencement ceremonies themselves.
"The songs that are sung as you're proceeding in and during the ceremony, all of those are traditional — every year it's practiced," Noble said
As Hockaday graduates its 108th class, community members look to maintain healthy and vibrant traditions while looking toward the future and ways to improve.