And from Harper's thoughts
Staff Writer Harper Harris loves pop culture – and she's here to tell us what we should know right now.
I am a huge fan of Taylor Swift, and "Red" is one of my favorite of her albums. When Swift announced in June she was re-recording her fourth album, I was excited but disappointed I would have to wait five months for its release in November.
When Nov. 13 rolled around, I was thrilled to finally listen to the album I had been waiting for since June. As a fan, I knew she had worked very hard to re-record and completely own her work, so it was worth the wait.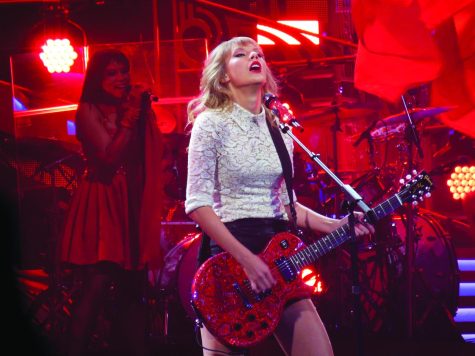 Swift is re-recording her first six albums because she wants to own her work. Under a now-expired contract with media executive Scooter Braun, he owned the original recordings.
After she got out of her deal with Braun, she re-recorded and released her second album, "Fearless," in early 2021. Swift now owns the masters to her re-recordings and her last three albums: "Lover," "Folklore"            and "Evermore."
I am impressed with the number of songs on "Red (Taylor's Version)", but it did take me a while to listen to all of them. I made sure to listen to the unreleased songs in order.
In "Red (Taylors Version)", Swift re-recorded 30 songs, including nine unreleased songs, and she claims these songs are "From the Vault." My favorite songs "From the Vault" are "All Too Well (10 Minute Version)," "Nothing New" and "I Bet You Think About Me."
"All Too Well" is supposedly about Jake Gyllenhaal and their brief relationship in 2010 when Swift was 20 and he was 30. Swift's fans have been waiting for the 10-minute version of her 2013 song. This is one of Swift's most popular songs, with over 170 million streams on Spotify.
I am proud of Swift for being so vulnerable with her fans. She sings about heartbreak and loss on "Red," using perfect language and metaphors to convey those feelings. She is also brave to leave her toxic label that included Braun so she can own the music she created.