SPC Recap
Volleyball
    Ending the season with a 6-0 record, Varsity Volleyball brought home the 2021 Fall Southern Preparatory Conference Championship Title for the first time  since 2008.
   "We haven't won an SPC championship in 13 years, but from the beginning of the season, we all had a feeling that this was ours," Junior Lauren Ingram said.
    "After sweeping Oakridge a few weeks ago, we knew that we could beat them if we kept our cool. We just told ourselves to focus on playing the way we always do,"    Ingram said.
     Making her first SPC appearance, sophomore Avery Jackson credits this season's victory to their team chemistry.
     "HVVB has always been a welcoming family," Jackson said. "I'm so thankful that my first SPC was a win with my favorite people."
    While the talent of this team definitely goes without saying, Director of Athletics Deb Surgi said the team's character on and off the court was their secret weapon.
   "The first words that come to mind when I think of this Championship Team are unselfish, fun and dedicated," Surgi said. "There are many talented teams that have the ingredients of Champion, but this particular one has it in abundance."
Cross Country
    This past November, Varsity Cross Country finished as the Girls Cross Country Runners-Up in the Southern Preparatory Conference Championship, 10 points behind the champions, ESD.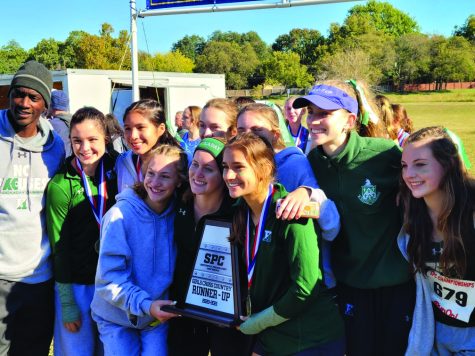 "Of course, since we were not able to compete in SPC at all last year, having it for my senior year was really special," senior captain Leena Mehendale said.
   Sophomore Margaret Thompson dominated and placed first overall with a five-kilometer time of 18:37.
    Hockaday runners decisively defended their home turf and four placed among the top 15.
Along with Thompson, freshman Jordan Lacsamana placed fourth, Mehendale placed ninth and sophomore Gracie Little placed 15th.
    "Racing-wise, our team obviously has phenomenal runners, but throughout the season, we've grown such a tight-knit bond," Thompson said. "With that and the enthusiastic sideline cheers, everyone's support motivated me to push until I crossed the finish line."
Field Hockey
    Varsity Field Hockey fought a competitive battle to finish their season with a Third Place Southern Preparatory Conference Title.
   After last year's pandemic upset, senior captain Landry Grover saw this year as redemption for last season's abrupt ending. Riley Carter, also senior captain, adds that the team also had the incentive to perform for their 11 graduating seniors.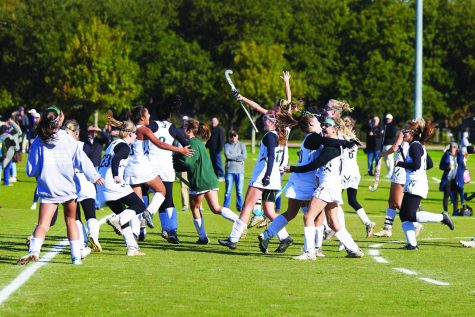 "It was a lot of people's last year playing field hockey," Carter said. "The team was very determined to do well in the SPC tournament because this was it for some of us."
    But not all of this team's success came solely from the field. Grover credits her coaches for their hard work behind the scenes and the fans for their encouragement on the sidelines.
    "Coach Johnson, Coach Thumlert and Coach West are the best trio that anyone could ever find and it was great to see spectators instead of cardboard cut-outs occupying the stands," Grover said.