Sophie Isom '18 makes history
Yale runner breaks record for 400 meter relay
Breaking the Yale University Track & Field 400 meter relay record by 0.82 of a second, Sophie Isom '18 continues to etch her name in history after previously setting the 4×400, 4×100 and 400 meter records at Hockaday.  
    Isom's track & field journey began her freshman year of high school to fill the gap in her spring season and follow in her mom's footsteps, Isom said. She wanted to run in college, realizing it could help her get into a prestigious school. 
       Isom's track future took off at the end of her sophomore year of high school when she stopped playing club volleyball and started focusing on track, Hockaday varsity track & field coach Laboris Bean said. 
    Isom dedicated the summer after her sophomore year to training. After practicing on hills and training on blocks, everything started coming together for her, Bean said. 
    Bean attributed Isom's successful transition from volleyball to track to her dedication and drive. 
"
I never would have started running track if not for Hockaday, and if not for Coach Bean."
— Sophie Isom
    "She was always focused on what she wanted to do and always gave 100%, even when juggling multiple sports," Bean said. "When she decided to concentrate on track, her commitment really helped things take off for her." 
    Bean said his favorite part of coaching Isom was coming up with creative ways to push her in practice, like making her start later or behind the other girls. 
    "I always told her she did not know how fast she could go until someone actually pushed her, so I am not at all surprised where she is today," Bean said. 
    Isom credits her running journey to her experience and coaches at Hockaday. 
    "I never would have started running track if not for Hockaday," Isom said, "And if not for coach Bean, I never would have believed that I had the ability (or have actually had the ability) to run in college!"
    With Bean's coaching, Isom anchored the winning SPC 4×400 relay in 2017 and cemented the school's SPC track win.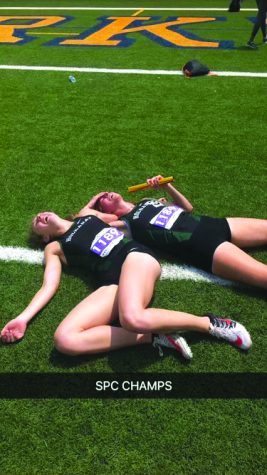 "It was so much pressure because it was all on me but such a great feeling to have pulled it off," Isom said. 
    Committing to Yale University in 2018 nourished Isom's track ability as she continued to improve her times and encourage her teammates.
    "Apart from being a strong competitor, Sophie is a born leader," Isom's teammate and roommate Aliya Boshnak said. "The way she carries herself at practice speaks to her character. Everyone naturally looks to Sophie as the example."
    Despite earning a spot on the record board after the 4×400 performance on Feb. 5 at the Boston University Invitational Meet, Isom's relay team actually didn't win the race.
    "We actually got third which was really funny," Isom said. "When I saw the time I started yelling and celebrating and we all ran up to each other and everyone was looking at us like…you got third? Why are you celebrating?"
    Besides her 4×400 relay, Isom has earned several personal records in the open 400 meter and open 200 meter events and aims to get up there again for another event. 
    To pay tribute to her roots and encourage current Hockaday track and field athletes, Isom offered some advice: "Work hard. Make good choices. Don't give up. If you really want to accomplish something, keep that goal in mind in all of the decisions you make and all the things you do."