A recap of 2011's field hockey, volleyball, and cross country's Southern Preparatory Conference
Cross Country
At 9 a.m. on Friday, Nov. 4, the Hockaday Cross Country team stepped off the bus at Norbuck Park and braced themselves for a blast of 30-degree air.  Three miles later, the ecstatic group accepted their Southern Preparatory Conference Championship trophy. Their achievement marks Hockaday's first win in cross country SPC since 1997.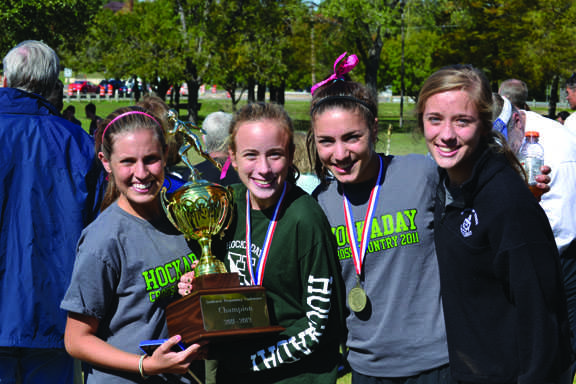 Senior captains Erin and Ellen led the team to victory. In order to promote a strong sense of unity among the team, they organized team bonding activities such as breakfasts, dinners, car painting and an outing to Jumpstreet throughout the season. Erin attributes much of the girls' ultimate success to these strengthened bonds.
"It wasn't just about cross country anymore—we were actually friends, all of us. We were a team, but more like a family," Erin said.
At the start of the season, Cohn created the Facebook group "HXC 2011" for the team. This unique approach to team bonding proved best of all.
"[The Facebook group] was amazing," sophomore Kaylee said. "The communication was awesome."
In the two weeks leading up to SPC, the runners posted inspirational videos and songs every night to motivate each other for the big day.
Even though only the top ten runners–senior Erin ; juniors Lexie, Jackie, Sarah, Renee and Lauren; sophomore Kaylee; and freshmen Harper and Claudia –actually participated in SPC, the whole team traveled together to encourage and support the runners.
As the runners crossed the finish line, junior Ellen said, "It was really intense because they all looked really tired and beaten down…they had almost no energy left in their bodies."
Juniors Jackie, Lexie and Courtney won first, third and fourteenth place, respectively, all earning All-SPC titles.
"It was a relief [to win]. There was a lot of pressure to win first this year because two years ago, we go third and last year, we got second, so it was really exciting to finally get first," Ellen said.
"The key to success is just loving your teammates and wanting to run well for the team," Erin said.
Varsity cross country coach LaBoris Bean agreed that this triumph was a team effort.
"It was a wonderful season. I really enjoyed the energy and hard work from the ladies," he said. "I'm looking forward to next year."
– Audrey
Field Hockey
The 2011 Hockaday Varsity Field Hockey team was placed in Division II for SPC this year, a placement that was both surprising and upsetting for the team after winning Division I the previous year. With a 4-3 record during their counter games, the team was borderline between the divisions, but was placed in Division II after Holland Hall beat Casady.
"All the teams were basically at the same skill level, and it honestly just came down to who got lucky," senior Kate said. "Unfortunately, we just weren't one of the teams who made the cut for [Division I]."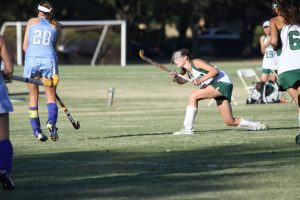 Despite their disappointment, the team was able to rally and won the division's title.
"We were upset that we were in Division II, but we knew that even if we were in Division II, we would have to win it," junior Ramie said.
After sixty minutes of game play, Hockaday was able to beat Trinity Valley 2-0, and the team was awarded the Division II championship trophy. Ramie and senior Maggie earned All-SPC titles.
"It was probably our best game of the season. We all really stepped up our game and played our best to end the season strong," sophomore Meredith said.
The graduating seniors have high hopes for the remaining players in future seasons.
"I would love to see a [Division I] championship come out of Hockaday next year–I know the team can do it," Kate said. "We have to keep our winning record, because Hockaday has been in an SPC championship every year since 2007."
– Molly
Volleyball
Of their three SPC matches, Hockaday Varsity Volleyball won against St. Mary's Hall and lost against Kinkaid but ended with a win against Trinity Valley, clinching third place in Division II on Nov. 4.
Throughout the tournament, however, a brunette girl sat at the end of the bench, dressed in a black jacket and sweatpants, looking on as she watched her teammates play. That girl was co-captain senior Cailyn.
Just three days before SPC, Cailyn was in practice playing Queen of the Court. When she went up to the net trying to block a ball, she landed on a teammate's foot, coming down from her jump at an odd angle onto her ankle.
"I felt it pop," Cailyn remembered. Further examination revealed she had sprained her ankle.
Cailyn's injury took her off the court for two weeks: a week on crutches and a week in a boot.
When the doctor told her she couldn't play, Cailyn was disappointed. "I was thinking, 'go figure—this had to happen senior year SPC.' But at the same time, I was happy I hadn't broken my ankle and we weren't in Division I."
Sophomore Claire said, "[Cailyn] took it really well and was really encouraging to us at SPC. She is a big contributor and a really good player, but her not playing made us all really step up our game."
Cailyn has been playing volleyball for ten years—four years on Hockaday's Varsity team—and said this was the worst sprain she had ever gotten.
"It was kind of bad timing," Cailyn said. "I was upset because it's my senior year and I didn't get to play in my last SPC, but these things happen and you can't stop or change it."
Watching her teammates play, Cailyn wished to be on the court alongside them.
"It was really hard not being able to play. Every part of me wanted to be out on the court playing with them," Cailyn said. "Just having to sit there and watch was a lot harder than I thought it was going to be."
Coach Adaku Achilefu said, "Because Cailyn's been on varsity all four years, [the team] has learned from her and seen how hard she works, and for her to not be able to play also helped them to play for her too, because they knew how badly she wanted to play on the court."
At various points throughout the tournament, Hockaday would be at game point. Sometimes they won the point—other times, they lost it to the other team.
"Especially when we lost a point, it was hard knowing that there was nothing I could have done," Cailyn said.
Competing in Division II rather than Division I slightly relieved Cailyn's anxiety. "If we were in Division I and had lost, I would have felt it was my fault because I was hurt," she said.
Not one to simply sit on the sidelines, Cailyn coached the team for a part of the game. "That was a cool experience," Cailyn said.
Freshman Samantha, who played her first year on Varsity Volleyball, said "[Cailyn] was an amazing coach—probably one of the best I have ever had. She really helped me with my blocking…I'm really proud to call her my coach."
Despite not playing, Cailyn believes the team did a great job at SPC. Cailyn said, "I was surprised at how they stepped up, but I'm really proud of them."
But Cailyn will be back on the court in no time. She plans to play on a club volleyball team this year and beyond, as she intends to play volleyball in college.
Clearly, this injury did not prevent Cailyn from playing volleyball altogether. Nothing can stop a person from loving what they do, can it?
– Tiffany