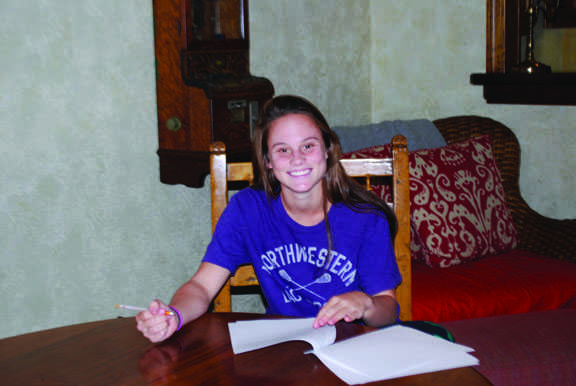 On the first day college coaches were allowed to contact high school players under NCAA regulations, Kelly Amonte-Hiller, head coach of Northwestern University lacrosse, emailed senior Maggie. That was Sept. 1, 2010 when Maggie was only a junior.  On Nov. 10 the following year, Maggie officially signed to Northwestern to play lacrosse in the fall of 2012.
Maggie has been committed since Dec. 6, 2010 when, after attending Northwestern's lacrosse winter camp, Maggie met with the coaches and "they offered me a spot on their team," she said.
Northwestern has won two consecutive NCAA National Championships, and Maggie knows she'll "be ready to fight for a national championship."
She is especially excited to join three good friends already on the Northwestern lacrosse team, whom she has previously played with throughout her high school career: Taylor Thornton'09; Jess Carroll, St. Johns '11; and Haydyn Anigian, Highland Park '11.
"It makes me feel better since I won't be alone," Maggie said.
Maggie looked up to Thornton from a young age and got to know her during her freshman year on the Hockaday Varsity Lacrosse team.
"Taylor will be a senior once I get there as a freshman so she'll take care of me," Maggie said. "Your team really becomes your family, your closest friends."
Gabriella Flibotte, a junior lacrosse player at Northwestern and Thornton's roommate, coached Maggie at the Northwestern camp this summer and said, "It is clear that she is definitely going to thrive here." Flibotte sees Maggie's strengths in her "unbelievable ability to change directions quickly," her scrappiness and her capability to score goals.
"Overall," Flibotte said, "life is good when you're rolling with two daisies on a team!"
Maggie, who has played lacrosse since sixth grade, always wanted to pursue athletics in college.
Maggie looks forward to the colder weather in Chicago along with the freedom of college life. She plans to prepare for the change to college lacrosse by following their summer workout schedule and "buying some more jackets."
While preparing to create a new legacy at Northwestern, Maggie will leave a lasting impression on the Hockaday Lacrosse team.
"Her skill and threat to the goal always make more opportunities," junior Ali, who has played with Maggie for two seasons, said. "She leads the team with confidence."
Maggie has won numerous awards over her high school years, including All-SPC, All-District, All-State, and All-Star Recognition for both her sophomore and junior years. She was also awarded Player of the Year by the Dallas Morning News in 2010.
Maggie will continue preparing over the next year for the awaiting challenge, but said she is "so honored to have been given this opportunity to play lacrosse at such a high level. I'm definitely nervous but so excited to step out onto the field as a Wildcat for the first time."
And no doubt the experiences and lessons learned at Hockaday will help this Killer Daisy blossom to perform as a ferocious Wildcat next year.
– Megan