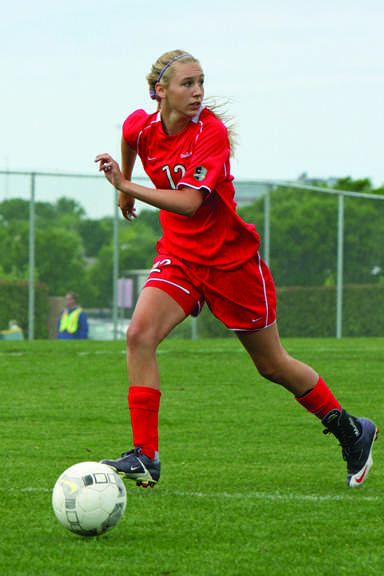 The choice between pursuing select soccer, Hockaday soccer, or both
When it comes to sports, soccer is the most popular on earth and it is gradually gaining more popularity in the U.S. When it comes to Hockaday, soccer is one of the most played sports by its students.
Although the majority of Hockaday girls quit playing recreational soccer after fourth grade, according to a recent Upper School student survey, about 20 percent kept with it and joined a select soccer club team in fifth grade in order to develop stronger technical skills and gain a better understanding of the game.
Sophomores Dalton and Evie and seniors Brittany, Aleksandra and J.J began playing select soccer in fifth grade. While the majority of them quit, Dalton and Aleksandrea stayed with their teams.
Evie, who played center and outside midfield for Sting and later for the Dallas Texans, quit after her freshman year.
"Select soccer requires a huge time commitment and I didn't feel like it was worth sacrificing my time for soccer when I don't have any plans to play in college," Evie said.
For Evie, quitting was no problem at all. "I still get to play at school without the yearlong commitment," she said.
Like Evie, Brittany quit because she did not want to play competitively in college but also because playing both select soccer and Hockaday soccer was too stressful.
"I remember having to sprint from Hockaday soccer straight over to club…It's pretty exhausting, and having to come home at nine to a pile of homework and chores to do was pretty time draining," Brittany said.
However, Brittany misses select soccer because "it really shaped [her] personality," but she adds that quitting was the right decision.
J.J dropped soccer this past June because she was forced to. The new Southwest Preparatory Conference rule states that a student cannot play under the coaching of both her club and school team if both are involved in SPC. J.J quit because her coach, Alan Platts worked for Hockaday as a seventh grade soccer team coach. Even though he had no influence on the varsity team, she was still forced to quit because he worked at Hockaday.
"It was very frustrating." J.J said "I loved club soccer and the girls on my club team. I decided that I didn't want to play club soccer if I couldn't play for Alan or be with my other friends…so I just quit altogether."
Although still upset by the new SPC rules, J.J continues to go to club soccer practices with her teammates just to keep up her skills and also reunite with her friends from other schools.
Some players, however, have continued with their commitment to their select teams.
Playing on the Hockaday team and on her select team, Sting '96 ECNL, Dalton has remained devoted to her select team since fifth grade.
Dalton has played soccer ever since she could walk. She enjoys it because she can get her "fitness in without it being really boring." Dalton chose not to quit because she feels as though she has a responsibility, not only to her team but to her teammates, to be there on the field playing her best soccer.
"It will help me out in college," she said. Can you explain how that will help her in college?
Aleksandra has also stuck with her club team for the past eight years. Aleksandra plays for the fun of playing but also "to stay in shape and follow through with my commitment." However, she wishes she had "more time to find other things I love to do."
One thing everyone agreed on was that they enjoyed the experience of playing on a select soccer team, learning the values of working together and bonding with girls from other schools.
"I really miss the girls on my team and strangely enough, driving an hour every Saturday morning to play games," J.J said.
While most of the girls who did quit miss their friends and traveling across Texas to play soccer, J.J also said, "I think that the Hockaday soccer program is probably one of the most successful athletic programs at Hockaday…no one on the varsity team is just playing to get out of PE –everyone really cares about the team and the sport."
– Gretchen