Fall SPC recap
Three varsity teams finish among top five at tournament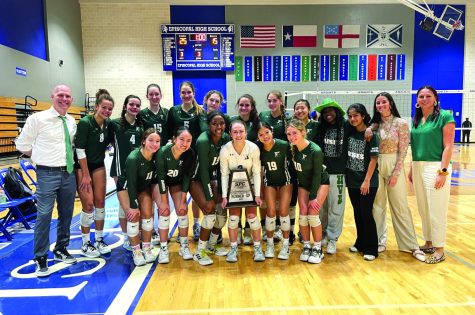 The varsity cross country, volleyball and field hockey teams finished out their seasons after competing in the Southwest Preparatory Conference championships the weekend of Nov. 4–6 in the Houston area.
Cross Country:
Starting the race at 9 a.m. on Saturday, the cross country team placed third overall at SPC.Sophomore Jordan Lacsamana finished third with a time of 19:17 and junior Margaret Thompson finished fifth with a time of 19:24. Junior Gracie Little and sophomore Madalena Ritz–Meuret also finished in the top 20. Senior co-captain Brie Johnson set a personal record of 22:08.
"The team finished strong with everyone cheering each other on," Thompson said. "The runners, parents and coaches acted as a great support system throughout the race."
The race took place in Tomball, about 30 minutes outside of Houston on a narrow, hilly course surrounded by greenery.
"It was definitely a challenging course," Johnson said. "It was also a full circle moment for seniors because we raced on that course for SPC during our freshmen year."
Seniors reminisced about old memories while making new ones. Traveling on the bus together allowed them to bond on the way to the race.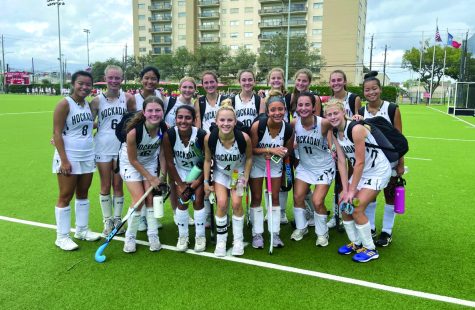 "The night before, we all ate Panera and took an ice bath together," Johnson said. "Team bonding is always one of the best parts of the trip."
Overall, Johnson said she considered SPCweekend a success.
"It was a good race and we made a lot of really fun memories," she said.
Volleyball:
Varsity volleyball finished second place in Houston after winning the North Zone championship, ending the season with an overall record of 22–12. They won the first two SPC games against ESD and St. John's but ultimately lost the championship game to EHS.
"I think we played great," senior co-captain Payton Arbaugh said. "I'm so proud of our growth throughout the season."
Not only did members of the team further develop their technical skills and communication throughout the season, they also learned to take on new roles and positions.
"With our 11 total injuries during the season, we really had to learn to adapt," Arbaugh said. "Everyone was really good about being a team player and being ready to step up into any position."
While learning to work together, players increased their confidence, settling into their
new roles and contributing to the growing team dynamic.
"Throughout the season, people began to feel more confident in their abilities," senior co-captain Lauren Ingram said. "We were truly giving our best and weren't afraid to make mistakes because we knew we had each other's backs."
Players also grew closer over the course of the season.
"Lauren and I really wanted to work to make the team like a family," Arbaugh said. "We did lots of team bonding and team dinners."
Field Hockey:
Varsity field hockey finished the season in fifth place in the 4A SPC tournament.
"We played really well," junior Rachel Manley said. "We fought hard and continued to keep up the hype and spirit throughout the whole weekend."
The team played three games over the course of the weekend, losing the first and winning the second and third. They played Episcopal High School first, only giving up one goal to finish the game 0–1. Next, they played Awty. As goalie, Manley did not give up any goals in the game, allowing Hockaday to win the game 2–0. Finally, the team defeated Greenhill thanks to two goals from junior Riley Damonte.
"At the end of the Greenhill game we were tied 1–1 but were given a short corner so we had an opportunity to score," senior co–captain Libby Warren said. "Riley scored an impressive
goal to win the game despite the pressure."
Ending the season with these wins, players created lifelong memories.
"My favorite memory from SPC weekend was when the team did a bonding activity where they wrote their 'why,' as in what motivates them to work hard, on their sticks and they all put me as their 'why'," Warren said. "The team went on to win the game against Awty and it was such a heartwarming experience."