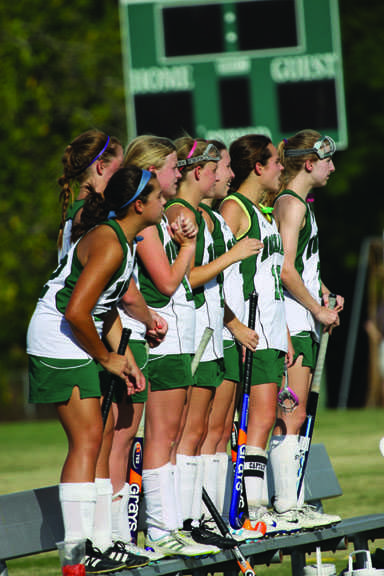 Parents dot the bleachers alongside the fields, chatting with one another about the latest Hockaday gossip and sipping from Starbucks cups. Occasionally they look over onto the field and, temporarily halting their conversation, aim supportive cheers at their daughters.
A regular home game.  So what's wrong with this picture?
The problem is the dearth of plaid. Hockaday students, if any, are vastly outnumbered by the prevalent parents in roughly a one to six ratio.  Many athletes feel that school spirit among the high schoolers is drastically low, and they are the ones feeling the loss.
"Our team plays better when there are a lot of fans," sophomore varsity volleyball player Mary said. "Our team gets really pumped and we have more encouragement from the bench and everyone plays with a lot more energy."
The consensus among the athletic community is that fans improve team performance. According to varsity volleyball coach Adaku Achilefu, "the girls feel good that they have support from [students]."
Her colleague, Coach Jennifer Johnson, said, "I think the Hockaday fans provide a big boost to our team's performance.  It's always nice to hear your name called from the sideline…When you're tired and don't think you have anything left, fans can give you that little extra push."
Research confirms these beliefs. A survey composed by Professor Norman O'Reilly of Laurentian University found that more than 66 percent of the 24 member national female Canadian hockey team believed a supportive crowd encouraged them to do better.
History teacher Colleen Durkin, a devout Hockasport fan, said that she notices a correlation between the action on the field and student attendance.
"When you go to a Greenhill game and it's five parents and me, they play differently than when you go to the ESD game that decides the state championship and half of Hockaday Upper School is there and a bunch of St. Marks guys – that's definitely a different feeling," Durkin said. "I think it motivates them; it would motivate me."
Professional team coaches agree that players perform better with boisterous fans. St. Louis Cardinals coach Tony LaRussa told the Wall Street Journal that the immense noise level from the Rangers Ballpark decided the Game Four win for the Rangers.
"Crowd support is an integral part of competition and has the ability to play a supporting role in changing the outcome of a game," O'Reilly said.
As a result of low Hockaday fan numbers, junior Renee said she pretends that the fans who are cheering for other teams are actually cheering for her.
"Last time there was this old granny who had green pompoms," Renee said. "She was cheering for Greenhill, but I mean they were green pompoms so why not cheer for Hockaday?"
This isn't always the case, however. To some players, a large number of onlookers can cause anxiety, and crippling effects, especially among athletes who are not accustomed to many people attending their games.
"At first it can get kind of nerve-racking. You get nervous but then you get real excited," freshman Staci, who plays basketball, said.
The elusive male cheerleaders, when present, have been known to dramatically alter nerves among the female players.
"When the St. Marks boys come, [the girls] get a little shakier," observed Achilefu. "Or they play out of this world, so it could go either way. But we seldom have male fans at our games, unfortunately."
Despite an impressive-sized congregation of girls at almost every St. Mark's event, few, if any, of their students grace the campus for a Hockaday home game.  This lack of boys has led to many a disgruntled daisy.
"They never cheer for us and we always cheer for them," lamented cross country runner senior Erin.
An overall indifference, combined with lack of time, has deterred busy Hockaday students from foregoing their trip home to stay and support their peers. Additionally, when searching for amusement, many girls prefer the refined fine arts to athletics.
Coach Elia Kochan also blames the lights in the outdoor fields – or lack thereof.  As night falls earlier and earlier, games are being scheduled on top of each other to preserve daylight at the expense of fans who are torn between the JV and Varsity bleachers.
The results of a large fan base were certainly visible at varsity field hockey's SPC. That extra push helped the team to clinch the Division II SPC Championship.  As the final seconds ticked down, a roaring noise echoed across the fields and, at the end of the game, daisies of all grades and degrees of athletic interest rushed the field.
Why can't all games be like that?
– Laura