Athletes make it official
Sports standouts commit to collegiate careers
Following the biggest college commitment season in Hockaday history, the class of 2023 stands at 10 commits so far. Students have committed to schools all over the country. 
Softball player Maia Hartley is committed to play for the University of Pennsylvania. She began her two-year-long conversation with the university's coaches the summer after her freshman year. Despite this relatively early start, she ended up officially committing in the summer of 2022. 
"They were one of the first schools that I noticed watching me at my games," Hartley said. "The school looked really cool so I persisted in reaching out to them." 
Hartley said she will be competing as a Division I athlete because she felt that level of competition was appropriate for her lifestyle.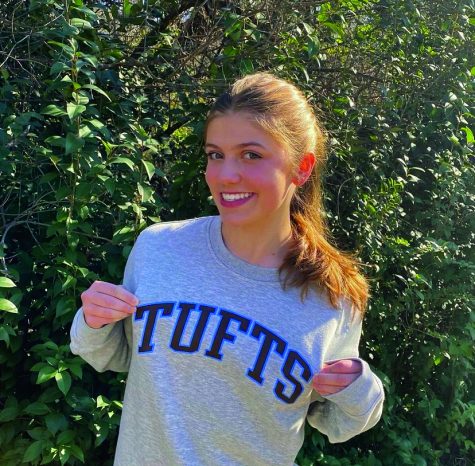 "I love strict schedules and staying busy," Hartley said.
Contrasting Hartley's longer commitment time frame, senior Savannah Fredricksen started and completed her rowing commitment to Tufts University in a matter of five weeks. 
Fredricksen began the recruitment process with phone and email conversations with Tuft's coaches during the summer, followed by an in-person visit with the team.
"It was a fun practice and I loved their coaching style," Fredricksen said. 
She said she chose to compete as a Division III athlete to achieve a better work-life balance and fully appreciate her college experience.
"For me, it was most important to commit to the team that I felt most at home with and which campus felt best for me," Fredricksen said. 
After suffering illness and injury, swimmer Mary Grace Martin persisted and is now committed to swim for Claremont McKenna College. Martin was particularly drawn to Claremont because of its "perfect" mix of athletic and academic opportunities.
"I realized how important academics are to me and I didn't want to sacrifice that for a more ambitious athletic goal," Martin said.
Martin began serious conversations with the school during the spring of her junior year and ended up deciding to swim in Division III.
"I felt like Division III gave me the right balance of academics, athletics and social pursuits," Martin said. 
All three athletes agree they are happy with their commitment decisions and look forward to meeting new people and becoming established on a team. 
"I am looking forward to experiencing something different than high school and becoming part of a team culture," Fredricksen said. 
Additional commits:
Lauren Ingram (Duke University, volleyball, D1)
Alexandra Weinmeister (Washington University in St. Louis, Soccer, D3)
Lola Isom (Yale University, Track and Field, D1)
Grace Hoverman (Columbia University, Lacrosse, D1)
Josie Sinwell (William and Mary, Lacrosse. D1)
Victoria Li (Johns Hopkins University, Fencing, D3)
Ambyr Baker (Villanova University, Soccer, D1)