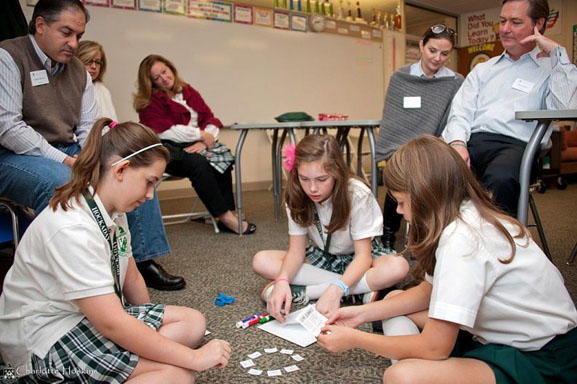 Last Wednesday, the Forest Lane parking lot was occupied by a few more visitors than usual. Girls were guided into overflow parking while their parents filtered through the gates behind them.
With the bell chiming the beginning of first period, two generations filled the venerable walls of Hockaday. As that bell chimed, I had never felt more at home within these walls; they belonged to me, and of course, to all of my sisters who shared with me the Hockaday experience.
I suppose it would be ironic to say I felt like a parent on Parents' Day as I deftly navigated my way through the halls—only to look back and see my mother half a league behind me, jammed in a throng of equally bewildered, not to mention loquacious, parents.
It struck me then just how well I have come to know my school over the years, and how well my mother hadn't. Suddenly, I was the one with the experience, and she the one bumbling along behind me, just passing through for a taste of the life I proudly call my own.
First period ended after a brief 40 minutes, and I felt like I had only just arrived. And maybe it's just because I'm a junior and Ring Day feels like the Holy Grail I've waited half a lifetime for, but as  I shuffled through the congested hallway, I began to notice the number of women—seniors without white blazers—who bore the same jade ring I will soon slip onto my own finger. They were mothers, lawyers, doctors, artists, and here they were, back home, watching their daughters proudly carry on the title Hockadaisy. They had learned the ropes of Hockaday—they too once deftly maneuvered themselves down a bustling staircase faster than Mr. Kramer can say, "your paper is late"—and now it's our turn to be the leaders. Maybe Parents' Day is as much for us as it is for our parents.
-Annabel