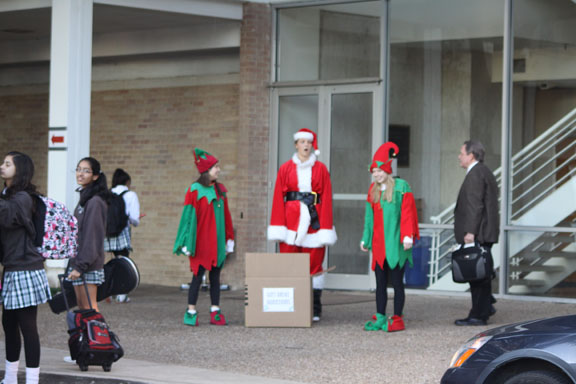 Every December, the community service boards at Hockaday and St. Marks jointly sponsor a gift drive to proceed a variety of organizations including the Jubilee Center, Salvation Army, JC Phelps, West Dallas Community Center, Carr P. Collins, Genesis Women's shelter,TR Hoover, Promise House, Family Gateway, St. Philips and New Beginning Center. For more information on the organizations, feel free to email Laura Day or Sarah Satinsky, or come by the community service office for more information.
Students are asked to help supply families in need with gifts for their children during the holiday season. Ranging from books to makeup, Hockaday and St. Marks combined collect around 1500 gifts every year.
"This year, we have talked to more organizations than usual; we're really hoping to have more gifts than ever and help even more people than we have in the past. We have 2012 gifts as a combined goal to represent the year and graduating class," Assistant Head of Community Service Sarah Satinsky said.
The community service board is helping to make the drive more personal by hand delivering the gifts to the 11 charities. Students from both schools will go to deliver the gifts as they come in.
"I think it's going to be a really nice touch to the drive. I know that the girls on the board are excited to help out," Laura Day, head of the community service, said.
As another element of the drive, students on the board dress up as Santa and his elves every year and head out to the Upper and Middle School carpool lines as a tradition to raise awareness for the drive and spark holiday spirit.
With the deadline for donations on Dec. 14, there is plenty of time to go shopping to find the perfect gift for someone in need this winter.
This year, both schools are intent on focusing on more specific and personal gifts. Suggestions include:
Basketballs and other sports equipment (Nike soccer ball, volley balls)
Watches
Sweatshirts and hoodies
Hats and beanies
Socks
Mittens or gloves, scarves
Sweaters and coats (all sizes)
Jewelry (necklaces, earrings, bracelets, rings)
Hair items (headbands, clips, etc.)
Curling irons and Hair straighteners
Make-up, make-up bags, make-up kits
Bath items (scented lotion, perfume, nail polish)
Purses and totes
Dallas sports teams paraphernalia (hats, shirts, etc.)
Pajamas
Electronics (CD players, hand-held games, ipod touch, etc.; please provide batteries!)
DVDs (PG13 or below)
Teen-appropriate board games (Taboo, Apples to Apples, Catch Phrase)
Beyblades, Wii and X-Box games (video game stuff)
Pre-paid cell phone
Clothing store gift card (Target or Walmart)
Electronic book
Boombox
Fashion drawing book
Headphones
Art supplies: lanyard/beads/string, paint, markers and crayons (multiple colors)
Music items (drum sticks)
Cameras
Gift card to Gamestop or Walmart
Books
2 movie tickets
Portfolios for interviews
– Molly