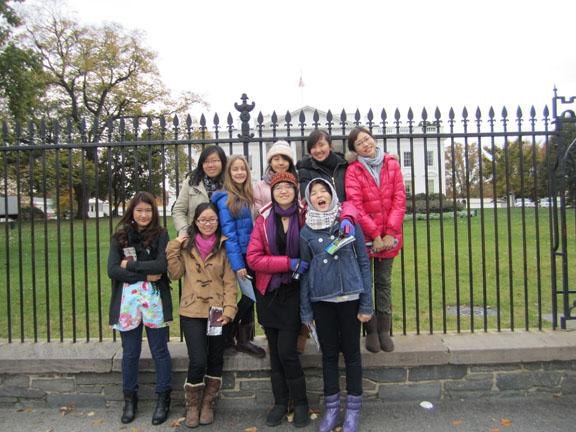 America's capital city is the hub of the nation's politics, history and numerous national treasures. Home to the White House, House of Congress and dozens of museums, Washington D.C. is a single destination packed with countless historical and cultural sites.
Each year, two chaperones and a group of new international students embark on a trip to the city. This year, a group of nine girls, accompanied by English for Speakers of Other Languages teacher Elizabeth Smith and history teacher Kathryn Hodgkinson, journeyed to the capital on Nov. 9 for four days.
"Visiting D.C. was a really good opportunity to learn more about American history and culture," Luda, a freshman from Russia, said, "Washington has a lot of museums, cathedrals, memorials and monuments to see."
This is exactly the purpose of the trip. Smith said that she plans the First Year International Student Trip to DC because it "provides first year ESOL students an opportunity to learn about and see democracy in action."
Students did just this by visiting the Senate Gallery and witnessing the entire Senate vote. The group also took advantage of the chance to see U.S. Senator from Texas Kay Bailey Hutchinson speak to the Senate about government restrictions and the internet.
Another aspect of the trip was exposure to American history. The girls' first historical destination was Mount Vernon, George Washington's home. Next, the students travelled to the presidential memorials, the Museum of American History and, finally, the new Martin Luther King, Jr. Memorial, where King delivered his  famous "I Have a Dream" speech.
Each day brought a new adventure and many new places to visit. The girls and chaperones left the hotel each morning at 8:30 and returned each night and 8:30 . On the first day, after leaving Hockaday at 4 a.m., the students visited seven monuments.  Smith, who arranges the trip each year, planned it so that there was never a spare moment.
"Mrs. Smith did a great job of packing the trip with as many visits to memorials and museums as possible," Hodgkinson said.
Hodgkinson's favorite aspect of the trip was getting to know each of the girls, and her favorite destination was the "uniquely designed" and  "very moving" memorial for those lost in the 9/11 attack on the Pentagon.
Freshman Vicky from Thailand particularly enjoyed a dance show at Georgetown University. She also appreciated having Smith, Hodgkinson and tour guide Mr. Rob all share their knowledge while touring the city.
Perhaps the most unique and unexpected opportunity on the trip was sighting the First Dog. On the girls' visit to the White House, Beau passed the girls on his walk.
"He was very well-behaved and didn't require a leash!" Smith said.
– Emily