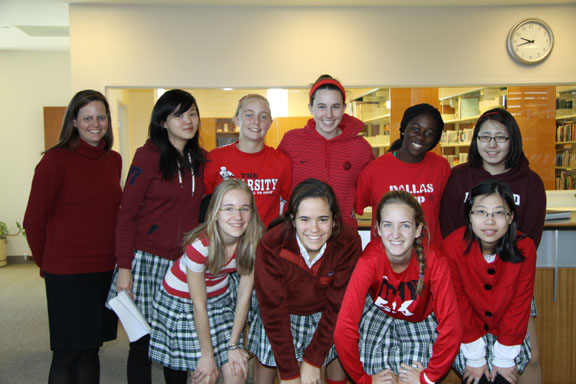 The Center for Disease Control estimates that over one million people in the United States are living with HIV/AIDS. Worldwide that number reaches 33.4 million. Hockaday students recognized World AIDS Day on Dec. 1. The worldwide observation of the day, which began 23 years ago, aims to spread awareness of the AIDS pandemic and the spread of HIV.
The Gay Straight Alliance organized the day at Hockaday, planning a half free dress day, on which students could wear red shirts to raise awareness. In addition, GSA members passed out red ribbons for students to wear.
Throughout the week prior to the event, the GSA publicized it by putting up posters portraying the theme set by the World AIDS Campaign:  "Getting to Zero". This refers not only to the hope that the number of  AIDS related deaths and new infections will drop to zero but that discrimination of the disease will cease as well.
During an Upper School assembly on AIDS day, Upper School Head John Ashton discussed common misconceptions surrounding the disease; they were also printed on fliers posted throughout the school.
"One of the biggest obstacles to AIDS research is a lack of understanding about the disease," GSA member Megan said, "We were hoping that by helping eliminate the stigma around it we could help get people involved."
In spite of this, Megan said she was hoping for more participation.
"We would have loved to do more, but it came at such a busy time for everyone that we had less information to distribute than I would have liked," she said, "I still think any acknowledgement was helpful, and now we know how to plan more next year."
– Anna