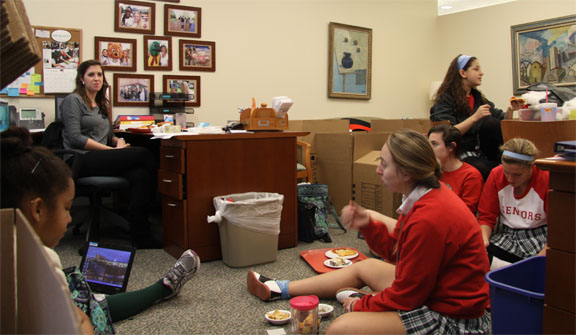 The holiday cheer has arrived in the Upper School— hope for a white winter and anticipation for the upcoming break tremors in the hallways. But at the nucleus of it all are the bustling girls in the community service work room—a small space occupied by girls cutting, gluing, decorating and packaging in the hopes of giving a little holiday warmth back to the community.
"This week is pretty much the craziest week since we are delivering all of our projects," Taylor, one of the project committee heads for the Community Service Board, said.
Projects include decorating homeless shelters such as Family Gateway, making ornaments and decorating trees for the Scottish Rite Hospital, packaging candy bags for Austin Street Shelter and making centerpieces for the Carr P. Collins homeless shelter.
"Our biggest project is the Scottish Rite tree." Taylor said, "That was a really big deal because we got a 20-year award since we have been doing it for 20 years."
But all of these projects require commitment, time and effort from the members of the Community Service Board.
"A typical day in the community service room is hectic," board member Emily said, "There are always lots of people going in and out …We really are almost like little elves."
The project sub-committee members set aside their Y-periods and conferences to come in and work on holiday projects.
"Each person in the committee is in charge of a certain project," Taylor said, "And the project directors make sure that people are coming in to work."
The holidays also provide members of other committees with extra avenues to perform service. Many board members come into the office during free time to help sort gifts, collect materials for decoration and perform any other jobs that need to be finished  during crunch time.
"It's a truly special feeling to know that I'm able to give back to a community," education sub-committee member Emily said.
– Kathy