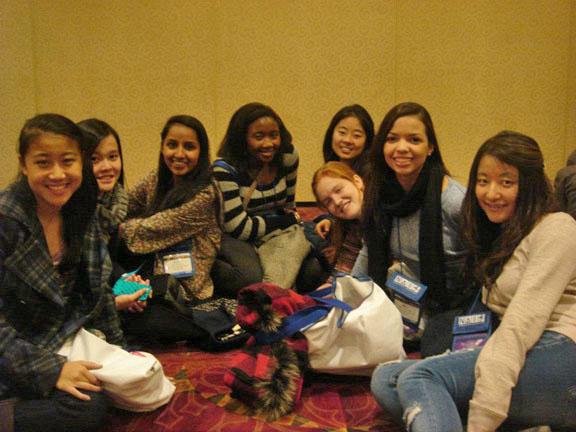 After returning to school from Thanksgiving Break for only two days, eight students and chaperones for left school again on Nov. 30 for an opportunity to represent Hockaday at a national diversity conference for 1500 high school student leaders (grades 9-12) from across the United States.
Sponsored by the National Association of Independent Schools, the Student Diversity Leadership Conference gathered private school students of varying backgrounds, orientations and beliefs to teach them how to communicate diversity, build alliances with other cultures and build stronger communities in their school. The conference included hundreds of schools across the country, each one bringing a maximum of eight students.
"They say the aim is to feel a level of discomfort from our discussions and activities, but I didn't really feel that way. Everything we did was really different and our environment allowed for honesty, debate, learning and discussion," senior Emily said.
Each day, the students rose at 6:50 a.m. and attended a large group activity after being split up into their "families" for the week, comprised of around 50 to 60 students. The students would then eat lunch in these groups, listen to a keynote speaker and attend an even larger group discussion towards the end of the day, culminating an extensive 14 hour schedule.
"Everyone there was so supportive, loving and understanding, because we all came there with a common goal. Also, it was a very safe and open environment, because we didn't know almost anyone there and it is very unlikely we would ever see them again," sophomore Emily said. "It was a very different environment from school, but one definitely conducive to learning and sharing about diversity."
SDLC participants also interacted in regional and intergenerational dialogue sessions that students from other countries also attended, which provided even more perspective for the students.
"You meet a lot of people, and you make a lot of friends," junior Mannhi said. "That's definitely part of the experience."
Led by diversity educators, participants worked in large group activities and discussions focused around the belief that diversity is about more than just race. In addition to these larger-scale sessions, the smaller "family groups" and "affinity groups" (based on ethnicity) allowed for more intense and intimate dialogue surrounding the main eight cultural identifiers: gender, race, religion, ethnicity, age, sexual orientation, socioeconomic status and learning differences /physical ability.
"You felt closer to 1500 people in two and a half days than you do to your whole high school in 365," Emily said. "Even though I know this isn't possible, I feel like there is some aspect of this conference that applies to everyone."
The eight students hope to bring back this information and apply it to Hockaday. They are currently working on ways to adapt these activities to the community in the months to come.
"I would even recommend this experience to those who are not necessarily into cultural and diversity studies but who really enjoy meeting people and conversing with others," sophomore Divya said, "The more people that go, the more people can spread the message."
The following students and chaperones represented Hockaday at the SDLC:
Whytne (Form I)
Divya (Form II)
Emily (Form II)
Grace (Form II)
Mannhi (Form III)
Cassie (Form III)
Emiy (Form IV)
Claire (Form IV)
Ms. Tresa Wilson
Mr. Leon de Oliveira
Ms. Jennifer Stimpson
– Katie