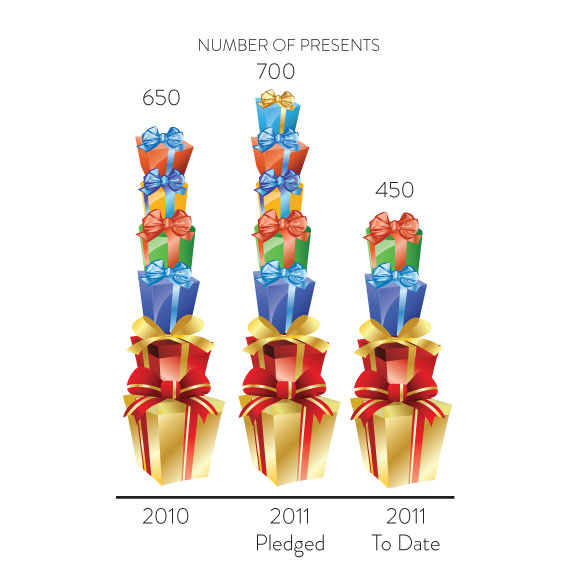 Students unite to provide teens with gifts during the holiday season
It was so drab when we first got [to Family Gateway], yet there were so many kids there. I heard a little kid say to his mom, "Christmas is finally here!"
Director of Community Service Laura Day told this story at an assembly on Dec. 1, at the start of the Teen Gift Drive. She shared with the Upper School her experience with Jaylen, a child living at Family Gateway, one of the homeless shelters in the Dallas/Ft. Worth area which permit homeless families to stay together.
Hockaday students, responsible for collecting and donating gifts to specifically teens in the annual drive Middle and Upper Schools participate in, provided gifts to more than 15 organizations this year.
Before the drive started, Hockaday pledged to raise an estimated 700 presents to donate to shelters and community centers across Dallas. A greater number of requests for gifts determined this pledge, as well as the attitude for promoting the drive at Hockaday.
"[Ms. Day and I] have had many calls this year from organizations requesting gifts, and we'd like to meet as much need as possible," Assistant Director of Community Service Sarah Satinsky said.
Gifts students donated went to community centers that Hockaday is actively involved with year round, such as The Jubilee Center, and to less familiar shelters, such as Family Gateway.
The drive focused on raising awareness of the needs of homeless teens. In order to motivate students to donate, the Community Service Board aimed to give girls a better sense of the specific places the gifts were given to. Each board member visited advisories to personally address students and their advisors and offer specific information about the organizations receiving the gifts the student would donate their requested gifts to.
"I felt as if [the advisories] had a real sense of who they would be helping out this season," sophomore Community Service Board member Emily said, who visited the Stipanovic and Stimpson advisories.
To further motivate students to collect more gifts than previous years, Day, Satinsky and the board reminded students to bring in gifts periodically while the drive lasted. Traditionally, some board members dressed up as either a Santa or elves to spread the holiday cheer while encouraging students to remember to donate presents. This year, however, every board member was required to dress up.
Last year, Hockaday students donated gifts to 10 different organizations, at least five fewer than this year.
Each year requires a readjustment: this year, it was more communication to the students.
"Whether it is that we have to advertise more, we are always trying to make the drive as successful as possible," said Community Service Board co-president senior Olivia. She has been on the Community Service Board since her freshman year.
A joint effort from everyone participating resulted in approximately 450 gifts at press time, compared to around 650 from last year.
Visit www.hockadayfourcast.org after the gift drive ends for a final number of how many gifts were donated.
"Our goal [of the gift drive] this year was to make sure that everyone understood where the gifts were going and why we did it," Day said. "We wanted it to be more than just putting a gift in a box, but rather, having an emotional connection."
– Amy