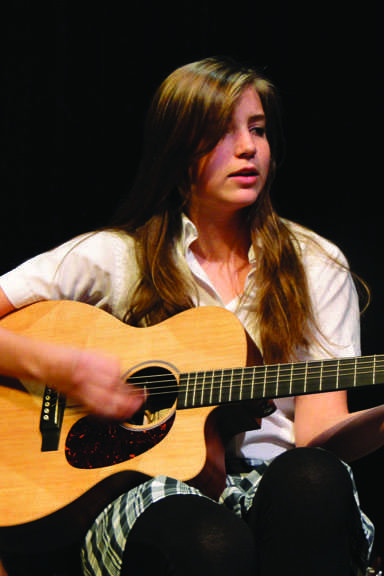 Singers and audience members gather in a circle on the Hoblitzelle stage, like a miniature Coffeehouse performance but with one major difference: Grammy-nominated artist and Hockaday alumna Lisa Loeb '86 sits in the audience.
On Dec. 5, Loeb returned to her alma mater to speak with and perform for all grade levels at Hockaday and discuss musical careers with Upper School students who performed for her in a master class. Student performances ranged from freshman Sarah, performing the song "Honey Bun" from "South Pacific," to sophomore Madison, playing piano and singing Adele's "Someone Like You."
With her easy smile and signature eyewear, Loeb offered advice to the eight girls who performed, such as "remember to keep your passion for music at the forefront of your playing, because musicians who do that usually end up having the most successful careers anyway."
"It was such an honor to sing for Lisa Loeb!" Madison said. "She definitely seemed more interested in what we were doing here at Hockaday than in telling us about her success."
Students who performed for her and those who watched the master class agreed that they loved her positivity and encouragement to pursue music at various levels throughout life.
But for Loeb, her visit back to Hockaday not only provided insight for the students, but also for her.
She was "impressed by how advanced the Upper School performers were" and appreciated how Choir Director Bonnie Jean Coleman encouraged students to "pursue popular music, classical music and musical theatre," which helps make girls musically well-rounded.
Loeb also performed and spoke with Middle and Lower School students. Fourth grader Cecilia said, "It was really fun! We all sang together because we had practiced her songs in music class."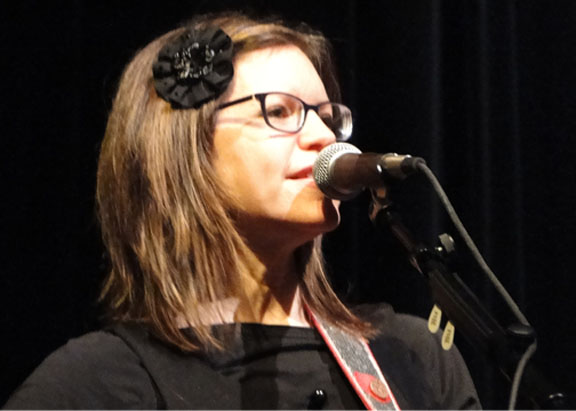 Cecilia also mentioned her favorite Lisa Loeb song is "Opposite Day," which was popular amongst all grade levels during Loeb's various performances.
Loeb attributed her love of music and writing to her time at Hockaday.
"The English classes at Hockaday really pushed me to analyze poetry and literature in a different way and really helped my later song writing," she said.
Loeb also mentioned that she first started singing at Hockaday in Lower School Choir and went on to perform musical theatre work and one act plays with St. Mark's.
With her wide range  of accomplishments, including her  eyewear line, her children's sing along book and music, her acclaimed "grown up" music  and appearances on sitcoms like "Gossip Girl," Loeb embodies the  ideal Hockadaisy, always pursuing new projects.
Having studied Spanish in college and at Hockaday, Loeb has even considered doing an album in Spanish, "at the right time and with the right partners."
Because of her humor and her anecdotes about her time as Student Council President and a disk jockey for St. Mark's former FM radio station, students were able to relate to Loeb, a true Hockaday girl at heart.
– Megan