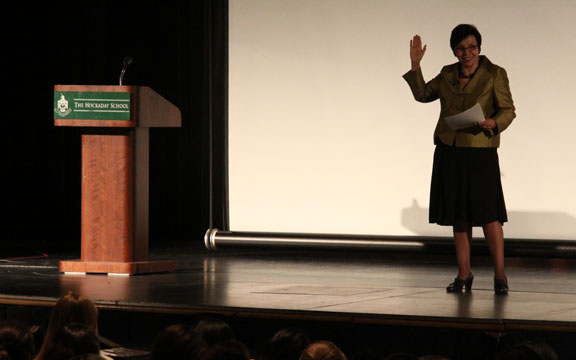 Fatemah Keshbaraz speaks to upper schoolers on the importance of literature and international communications
Iranians are infamous for their use of blogs and Twitter to share their thoughts and communicating their ideas. Twitter's role in the Arab spring emerged from the streets of Tehran.
But when renowned poet, Washington University in St. Louis professor and avid blogger Dr. Fatemah Keshavarz told girls at an assembly on Dec. 9 that Farsi is the fourth most blogged language, she still elicited surprise from the audience.
Speaking about cultural education, a topic which she also addressed before the United Nations General Assembly, Keshavarz visited the Hockaday community as the  2011 Allman Fellow.
Each year, Hockaday seeks out a scholar to spend a week on campus, visiting classes and addressing the Upper School in an assembly.
Keshavarz spoke to the Upper School regarding cultural education, declaring that it is "not a luxury anymore. It is something we deeply and desperately need for the global community." She emphasized the importance of global communication and the role of diverse literature in this network.
"As a human community, we all want the same thing," she said, "but because we call it different things and we don't have translators, very often we end up disagreeing."
Later in the assembly, she attempted to dispel stereotypes about Iran, asking girls to raise their hands if a fact she presented surprised them. Many girls were surprised to find out that 68 percent of Iranian college students are women.
At a poetry workshop later in the afternoon, Keshavarz explored the basics of poetry with five girls as well as poetry's impact on global communication.
"It was really refreshing since the majority of the writing we do in English is argumentative and analytical," junior Annabel said.
Keshavarz said that if there was one thing she could change about her country, it would be the government system.
"I would appoint a democratic government—a system that will have checks and balances that one person or one group doesn't get its views imposed on others." Despite Iran's current strong Sharia regime, Keshavarz believes this kind of transition for Iran is indeed possible.
"She had an overall large impact on Hockaday students," English teacher Kyle Vaughn said. "There are some interested just in the literature aspect, or the cultural political aspect."
Keshavarz was able to bring both realms together to engage a wider spectrum of students.
– Anisha