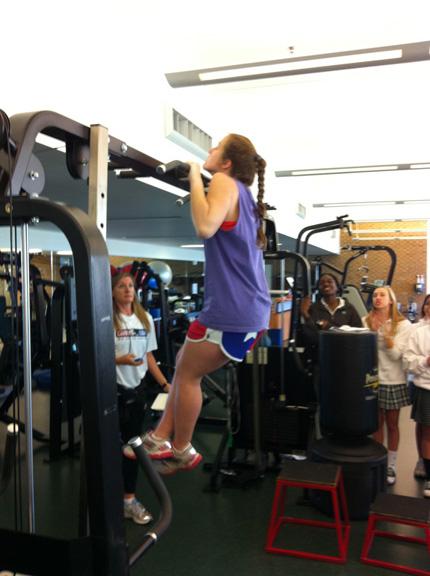 Students support senior Daly at her fitness test for the Naval Academy
Amidst the autumn application flurry seniors are now experiencing, senior Daly has had somewhat of a different application process.  Aside from the usual essays and short answers Daly has to test something other than her writing skills— her physical fitness.
On Nov. 17, Daly completed her fitness test in the wellness center.  Forty seniors and teachers came to support Daly as she powered through each exercise.  Among the cheer squad was senior Katie. "We were all really proud of what she was doing!" Katie said.
Daly is applying to the United States Naval Academy and one part of the application is a fitness test.  Consisting of a shuttle run, pushups, sit ups, pull ups and a mile run, this test requires the applicants to be in top shape.
"I trained a lot over the summer," Daly said. "After I got home from camp in July, I started working out and building my arm strength."
Once Daly returned to school in Aug. she connected with her senior independent study Hockaday coach, Shannon Nadalini, and they began to work out together every day 1.  Kathy Fetchman also helped Daly, giving her specific work outs for strength and endurance training.
"Every night I did 50 pushups and 100 sit ups before I went to bed," Daly said.  Even small work outs like this contributed to her overall strength.
Then, finally, the day arrived.  On Nov. 17, Daly along with Shannon and Kathy, set out to the Wellness Center to start her test.  However, they were not the only ones who came that day.
"I would not have done as well if people weren't there to support me," Daly said.  The scene was electric as the Hockaday community came together to support a fellow senior.
"Everyone was as nervous as she was," senior Alexis said, "maybe even more so. Everyone was holding hands and screaming, wanting her to do well."
Daly felt the encouragement during the test. "I really appreciated everyone's unwavering support and confidence in me," Daly said, "even when I may not have been so confident in myself."
Completing this test brings Daly one step closer to her dream.
"I want to be a Marine," Daly said, "I remember seeing this commercial while watching a football game. It was a recruiting ad for the Marines and it looked really intense."
Daly soon found herself spending hours on the Marine Corps website, researching more about the program.  Now, the rigorous academics, combined with the intensity of the conditioning program, attract Daly to the Marines.
"At first, the Naval Academy sounded too hard, but as I became fitter it sounded more appealing to me," Daly said.
Determination is key when deciding if the military is right for you.  "Don't give up and keep working at it," Daly said. "It will be hard, but you can make it happen."
– Nina