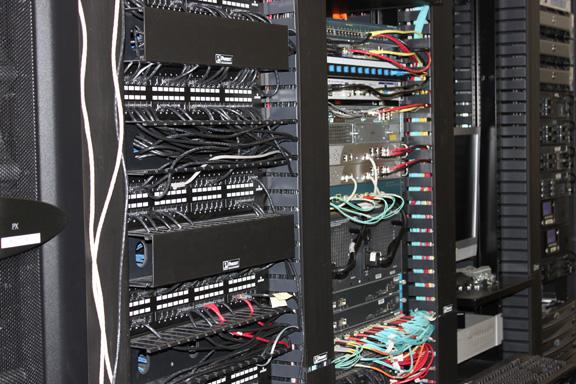 What really goes on behind the tech's desk
Hockaday girls aren't known for treating their Toshiba laptops with the greatest respect. Laptops are tossed around in their cases, picked up by their lids and subjected to drink spillage.  But when students make the unfortunate trip up the ARC stairs to the third floor, few know what goes on behind the tech counter.
The lines at the tech tend to be longest at the beginning of the school year, when issues accrued over the summer create a backup, causing stress for techs and students alike.
"We get around 200 laptops in the first three days back at school, which is why we don't offer loaners then. We just don't have the amount we would need to accommodate that," said computer technician Lee, who has worked at Hockaday fixing computers for 17 years.
During the rest of the year, the department stocks around 60 loaner computers that can be given to students whose computer problems will take longer to fix. Of those loaners, about 20 are usually out at any given time.
Recently, the type of problems the techs have to deal with most often has changed. Since students can only install programs through their administrator accounts as of this year, the incidence of viruses has drastically fallen.
"The main problems are now more physical than software-related," Lee said.
This has also resulted in a decrease in the total number of computer problems the techs have to deal with, making lines shorter and the tech more accessible.
"I don't get why so many people dislike going to the tech," senior Leila said. "I've always had a positive experience; they fix my computer really fast and are fun to talk to while I'm there."
Lee said, "It can sometimes be stressful when you have to wait there and everyone's in a bad mood, but we try to keep the mood up by keeping it lighter and trying to have some humor in the situations."
While the newest laptops in the Hockaday armada are much stronger than previous models, they are weak in the base. The techs keep as many bases as possible in stock to make the turnaround for a base breakage as short as possible.
"Physical breaks usually have a turnaround of only a few days," Lee said, while "motherboards take the longest to replace" because of the time necessary for the part to arrive and for the computer to be taken apart and put back together around the new piece.
With so many students leaving their Toshibas in the hallways or casually handling them by the lid, there's bound to be at least one funny story when a girl brings in her laptop with a problem.
"Once we got a computer that had been left outside while the sprinklers ran—she just forgot to bring it in before they turned on," Lee laughed. "We've also gotten a laptop that just had screen cracked in the shape of a footprint."
– Mollie