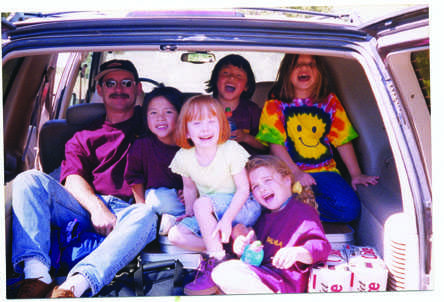 An Indian Princess Tribe remains close as they finish their last year together
Palomas aren't afraid of grizzly bears but we still go to school with bows in our hair! We do things with style and class, and if you don't like it, you can eat some grass!"
So goes the chant of the Indian Princess tribe consisting of seniors Katie (Princess Snowflake), Audrey (Whittled Branch), Mollie (Running Deer), Blair (Silver Moccasin), Sheriden (Tiger Lilley), Sarah (Shining Star), Lily (Tiger Lily), Megan (Little Blossom) and Kay (Darting Sta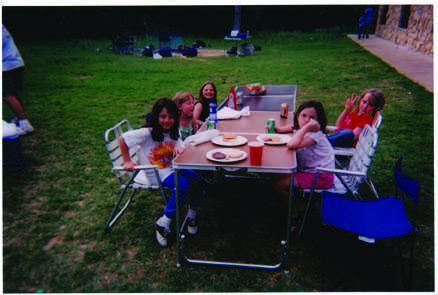 llion).
The father-daughter bonding time in the form of Indian Princess meetings was something that many girls treasured during their lower school years. There were the campouts, the dinners at festive restaurants, the trips to bowling alleys and ice skating rinks.
Katie said, "we've had our fair share of unique experiences. We were pulled over by the cops for sitting in the back of a pick-up truck, we caught tarantulas during a campout, and once we found a dead dear in a lake we were swimming in."
Sarah said, "the Paloma tribe was such a large part of my childhood. We always had a great time together, but it meant just as much to the dads!"
Dr. Michael Gross, Megan's father, said that the excitement of the girls during their campouts was completely uncontainable.
"It was the same routine every campout, we'd get there Friday night and the girls would just go nuts, screaming and running all over the place," Gross laughed.
"You couldn't get them to sleep…the dads would have to sleep in their room just to quiet them down at one or two in the morning."
After barely any hours of sleep, the girls would wake up as early as possible that Saturday morning and resume "go[ing] crazy all day long…eating candy until they felt sick," and then roasting marshmallows by the campfire until they drifted off to sleep.
Though Indian Princess tribes induced excitement—looking forward to huge sleepovers in exciting new places—and creativity—coming up with your own tribal name, most tribes split apart by third or fourth grade because girls had less time for play and needed more time for schoolwork and extracurricular activities.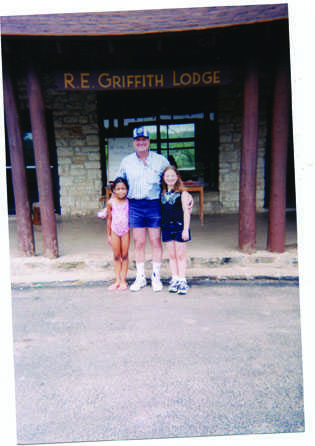 This tribe, however, managed to beat the odds and stuck together from kindergarten through their senior year. The Paloma Tribe still meets every year during holiday break to relive old memories and create new ones.
"For Christmas light viewing, we used to all pile up in the bed of Mr. Stites' (Sarah's father) pickup," Megan said, lamenting that, eventually, the cops caught them and told them this, in fact, was not very safe, ending that tradition.
But the tribe still meets—with their dads, too—at a restaurant, usually Mi Cocina. After dinner, "we go over to the Stites' house and have cookies, watch a movie, and hang out together," Megan said. "We do it every year during the holiday season."
"Hanging out at the Stites' is always so fun because we're able to bond over hot chocolate and sugar cookies. We really love our reunions because the dads are hilarious together and it's so fun to catch up with the people we don't see all the time," Katie said.
"It's really great to still be a part of the Palomas because it gives all the girls an opportunity to catch up with the girls we haven't been able to talk to in a while," Megan said. "We always have a really fun time together."
Sarah agrees, "I absolutely love our holiday reunions because it gives us a chance to reconnect with each other and our dads and have a great time! It's a great bonding experience."
The Paloma tribe, still going strong today, has stood the test of time throughout the carefree times of Lower School, the awkward stages of Middle School and the approach of adolescence in Upper School. They hope to remain together through college as a true tribe, faithful to their Indian Princess bond.
– Hunter