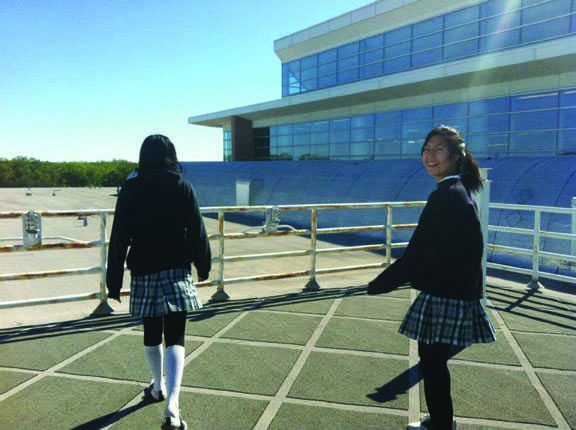 Hockaday students work to cross things off their Hockabucket list
It had taken a little bit of persuasion, but seniors Michelle, Isabella and Kristin found themselves mere steps away from something they had always dreamed of: the roof of the science building. Upon stepping out on the roof the girls were immediately struck by the absolute nothingness.
"I don't really know what we were expecting," said Isabella. "It's just a roof. But there is really nothing." In spite of the anticlimactic nature of their findings, the girls had fun taking pictures, surveying the parking lot and just "frolicking," as Isabella put it.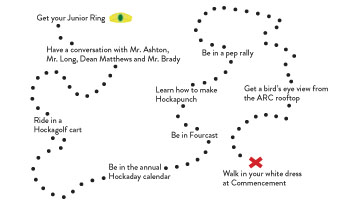 Everyone has things they have to do before graduating, such as going to Mo Ranch or completing the JRP, but these seniors came up with their own "Hockaday Bucket List" which includes more off-beat items like "cook breakfast in Tarry House" and "hijack a golf cart."
Spawned after a conversation with Head of Upper School John Ashton, after which the girls joked they could cross "having a deep conversation with Mr. Ashton" off their bucket list, they realized how many "Hockaday" things they wanted to do before they graduate.
So far the girls have been steadily working through their list. They have now had conversations with Mr. Ashton, Mr. Brady and Mr. Long, changed their hairstyle, gone to St. Mark's homecoming and read a translation at convocation, and of course visited the roof of the science building.
As second semester approaches they still have a ways to go. Isabella says she is mostly looking forward to "hijacking" a golf cart which Michelle can drive  as a trainer because there are so many parts of campus she hasn't seen.
While some of the items on the bucket list are universally applicable to teenagers, like making a viral video or getting into college, the vast majority involve getting to know Hockaday, and the people in it, a little better.
The girls stress that they always ask permission before they do anything that the school might not approve of. On their trip to the roof, they received special permission and were accompanied by physics teacher Richard Taylor.
As for the hardest, all girls agreed that finding the alleged secret passageways in the school posed a unique challenge. "I've only heard rumors about their existence so it'll be almost impossible to locate them" Kristin said.
– Anna