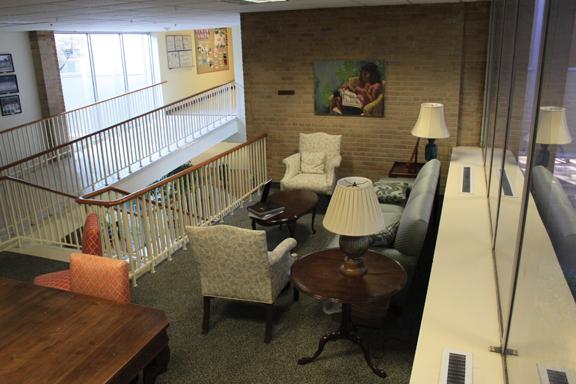 White signs embossed with Hockaday's green crest are popping up around campus. But not every room has a sign designating its name. Here are some of the rooms you may not have heard of.
Dating Parlor
As the name suggests, the Dating Parlor is where boys pick up their dates from boarding. Previously, there were five or six "dating parlors." Now, however, there is only one.
In years past, Winter Formal was held at Hockaday. In 1998, the theme was Hollywood and the Student Council installed a TV for the night to show famous Oscar-winning films.
"This boy arrived at Hockaday, and his girlfriend was not ready," recalled Fine Arts Department Chair Ed Long. "So I said 'Gee, would you like to start a movie?' and he said, 'Sure,' and it was the movie 'Titanic.' By the time [his girlfriend] showed up, the ship was in the water. So the dating parlor had a kind of wait-while-I-get-ready reputation."
Today, the dating parlor's waiting room function as a waiting room has been lost. Instead, it is used primarily as the Liggitt/Hollingsworth senior advisory's meeting area.
"I sometimes see people using the table to do homework, but I think that's about it," advisee senior Kristin said. "And someone leaves her cello there all the time."
Under the Pool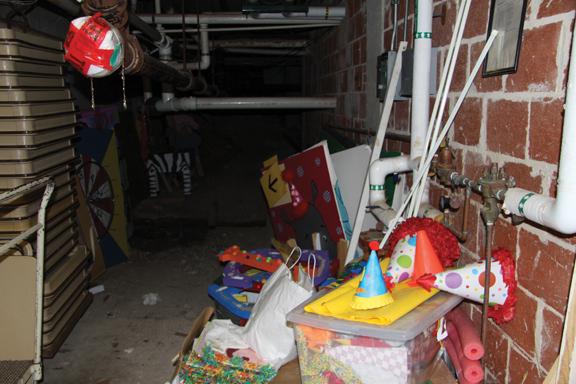 I didn't know that!" sophomore Paige said, because underneath the Small Gym and partially hidden beneath the indoor swimming pool, there is an entire room.
Formerly a civil defense center for students, it provided food and water in case of nuclear attack, which was convenient especially during the 1962 Cuban Missile Crisis, although it is unknown if it was used for Duck and Cover exercises.
When Long came to Hockaday, he noticed a purple and yellow radiation warning sign on the entrance door to the room. The door is located directly behind graduation terrace (there are two doors, one to the Small Gym, one to this storage room).
"I personally took down the sign because…there was one behind every commencement for years, and it bugged me."
Director of Housekeeping Carolyn Hoke said this room is currently used as a storage room for "paper supplies such as toilet paper and paper towels, Lower School props for the annual Pre-K circus, file cabinets waiting for a new home, cart loads of the tables and chairs used for events and other miscellaneous items."
Walk-in Refrigerators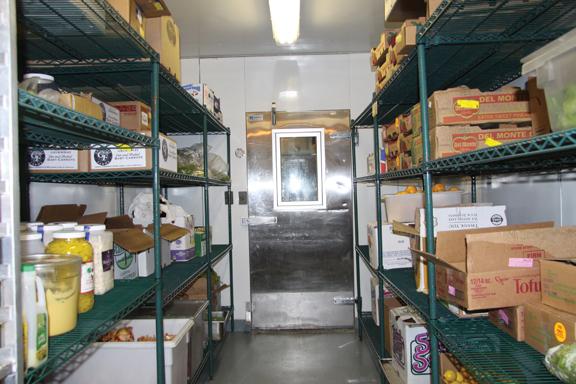 Built in 1994, there are three walk-in refrigerators in the kitchen. Obviously, they function to keep food fresh. Each refrigerator stores different types of food: produce; milk, dairy and juice; and meat and fish. The food is organized on shelves lining the walls, with the oldest food in the front of the shelf and newest in the back.
In general, produce is kept a maximum of a week in the refrigerator. Milk is typically kept in it for no longer than two weeks. Raw meat is stored for four days at most in the refrigerator, and cooked meat about two or three days.
Preventative maintenance comes in every three months to check the coolant levels, as the refrigeration system requires coolant. Plus, there is a fan that circulates the air, so they check to make sure it is functioning and clean.
Before the entire kitchen was remodeled in 1994, these refrigerators were half the size as they are now and had no windows on the doors.
"You could have a very nice committee meeting [in one of the refrigerators]," Long said, "but it would be cold."
Teardrop Garden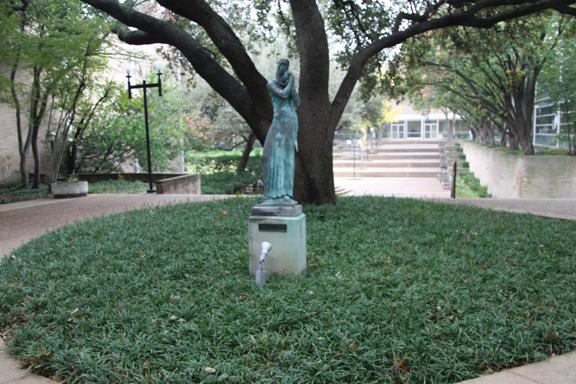 You see it all the time, but did you know it has a name? The hill separating Metzger Plaza and Graduation Terrace is today known Teardrop Garden and a large, wide, steep set of stairs.
Initially, in 1961, it was meant to be a classical amphitheater for former Latin teacher Marguerite Grow. However, the amphitheater was never built, and the space was refigured as the teardrop-shaped garden it is today. In the center of the garden stands a rusting statue of a mother and a child. The plaque on the statue reads "In Memory of Bonnie Bourne Baker Class of 1941." Baker '41 is quite a mystery at Hockaday, as no one seems to know anything about her.
– Tiffany