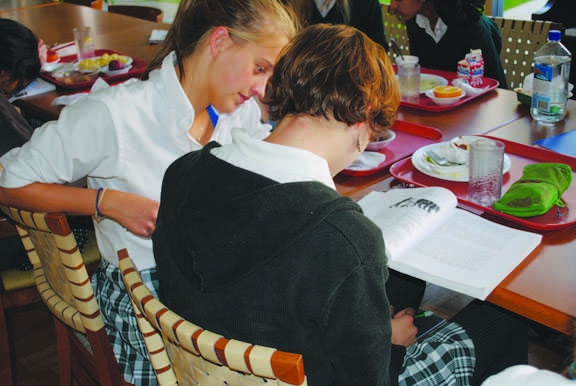 Hockadaisies delve into ancient texts through an independent study
Classical languages are not dead, but ubiquitous. That's exactly what Hockaday's Independent Study Greek students believed when they signed up for the course in conjunction with their Latin studies.
Dr. Andre Stipanovic offers the Greek Independent Study to any student (Latin scholar or otherwise) who wishes to take it. Those interested are allowed to craft their own curriculum with Stipanovic's guidance.
"They craft their own curriculum based on the textbooks," says Stipanovic of this year's Greek students.
Stipanovic recalls how the Greek Independent Study course started, "one student ask[ed] me if she could read Greek with me."
This year, however, the course elicited greater interest than previous years with 10 students participating. The curriculum includes Attic Greek, the dialect of Athens, and it encompasses the vast majority of well-known Greek authors.
"The Attic Greek is probably the second most applicable Greek," says Stipanovic. Attic scholars can be seen reading anything from Demosthenes to Plato. Hockaday girls meet once every rotation with Dr. Stipanovic, parsing verbs, identifying reduplication, and translating famous Greek dramas and poems.
Junior Sarah began studying Plato at the beginning of the year.  It "has proved rather difficult because I've taught myself a bunch of grammar," she said. After Sarah finishes the Crito dialogue (arguably Plato's most famous work), she wants to read Aesop's Fables.
Greek functions as a complement to Latin because they share complex grammatical forms and provide the basis for most of the English language. Greek grammar is notoriously difficult, and "it's a little more challenging than other languages because the alphabet is different," Stipanovic adds. "Unless you've studied Slavic languages first, it is harder to get into Greek than into Latin."
Aside from the language itself, Greek culture is also rich and deeply affected by its scholars. Ancient Greek society was shaped by its poets and writers, and Greek citizens placed importance in literature. Moreover, while Latin is generally taught exclusively through gradual translation, a Greek student must also learn to compose sentences to read Greek literature.
The eclectic group of students who convene in Tarry House to learn Greek come from different language educations. While some, like Sarah, are taking it in conjunction with Latin, others like Courtney took French throughout their upper school careers.
Sarah also enjoys "making connections between [languages]" by integrating different students' knowledge of modern languages and tracing English derivatives back to Greek and Latin. Also, learning classical languages provides a good basis for learning other, modern languages. For example, modern Italian is extremely similar to ancient Latin. Ancient Greek and Modern Greek are even more similar.
When asked about how students with expertise in different languages interact, Stipanovic enthusiastically responded, "If they don't know each other, they know each other by now…there's a good dynamic; we have every kind of personality. It's really kind of cool."
People who are passionate about classical languages find pleasure in comparing cognates, identifying meter and declining nouns and learning history. They find beauty in ancient poetry and humor in thousand year-old comedies. For Sarah, taking Greek was simply a natural progression because, she said, "I love Latin and want to broaden my studies of classic languages."
– Rupsha