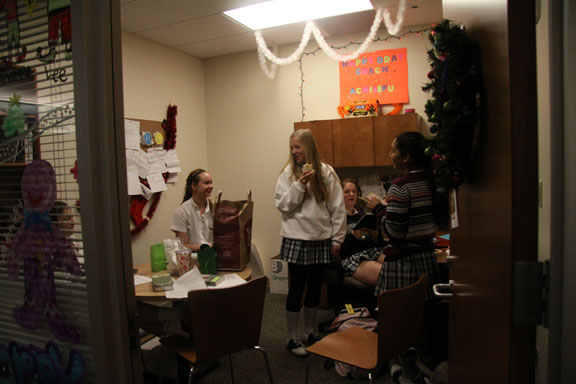 Advisories make themselves at home in unexpected places
Imagine the perfect advisory room: right by your hallway, near all your classes, complete with fridge, microwave and cabinets to store food, a couch and maybe a bean bag chair but most of all space—space to put your back pack and all the other stuff that you can't manage to stuff into your locker.
Most advisories have a few of these things (if not all), while some advisories do not even have a full teacher's room, but despite a few drawbacks, small advisories have their perks.
Sophomore Fishel, sophomore Achilefu , junior Lawson, junior Lott and senior Liggitt advisories all lack an actual teacher's room to relax, eat food and chat in for fifteen minutes every morning.
Located on the second floor of the science building, the Fishel's 10 advisees occupy the space across from Middle School science teacher Peggy Cagle's classroom. Forced to put their food out of sight, the Fishel advisory stashes their food in a small corner. They also have a relative shortage of chairs and need more seating.
Sophomore Shreya, who became a member of the Fishel advisory this year, said that not having a room is not a huge problem and it would be more "convenient to have an advisory room to decorate, put up posters and store our stuff."
Junior Laura-Brynn, a member of the Lawson advisory located in the science building along with the Fishel advisory, said that her advisory meets on the first floor of the science building around a table and they often lack seating.
Achilefu advisory, located in a small room in the junior hallway, has 10 people, a small table with a few chairs and a cabinet. While most advisees lounge around on the floor or sit on the table, the room sometimes becomes hot and few visitors can come because of the already cramped quarters.
But this lack of space does not stop Achilefu advisory from decorating for the holidays. They update their decorations yearly and make use of their two walls of windows by decorating them with window paint and tinsel.
Sophomore Nicole, an Achilefu advisee, said that even though it might seem tight, the advisory has a "prime location." She believes that one of the benefits of a small advisory is that it not only physically, but also emotionally "makes the advisory closer."
Laura-Brynn shared the same view as Nicole and felt that the small space brings her advisory closer as well.
Despite not having a teacher's room, the Lott advisory, located in the TV room in the Upper School Library, has comfy couches, just enough space for the 10 advisees, the librarians' amenities such as a fridge, microwave and coffee maker.
Even with the added benefit of a TV in advisory, Lott advisees said that "their traditions such as Secret Santa's and carving pumpkins are some of the best parts of advisory."
Liggitt advisee senior Lindsay, an advisee since her sophomore year, does not mind not having a teacher's room for advisory, but wishes that her advisory was closer to the Upper School hallways.
Even so, Lindsay said she would not walk farther for an actual classroom, trading her current advisory location in the Dating Parlor.
The Dating Parlor is located at top of the stairs that lead down to Tarry House. Even though the advisory lacks space for a fridge and microwave, their location next to Tarry House eliminates the need for them. By simply storing their food in Liggitt's office, they avoid having to worry about having a cabinet as well.
But while a nice location would be an added plus, some think that the entire advisory experience is what counts.
"It is the people that make the advisory," Lindsay said. "If you have fun in your advisory, the location does not matter."
– Alaina