Perfect on Paper: Why we won't let go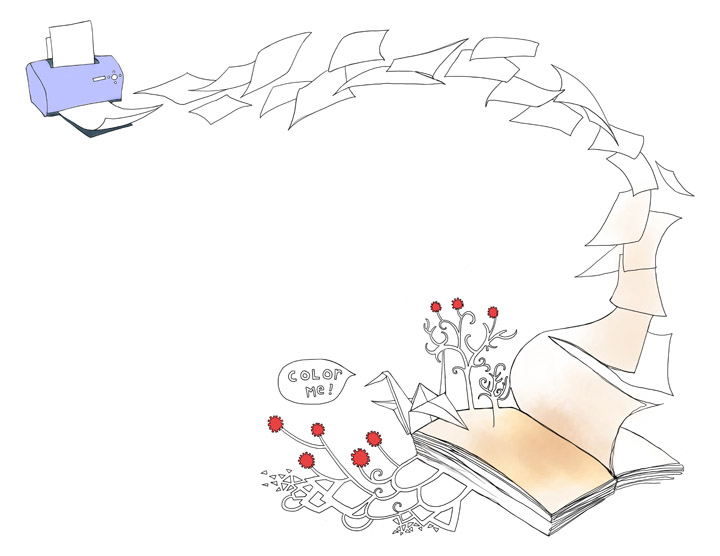 Don't Stop the Presses
A packet of science notes, three poems, one top secret message to Crime Investigation Asia (presumably an espionage assignment), an English essay outline, an email, a volunteer release form, physics graphs, history textbook chapters, a grading rubric, instructions on writing a close analysis, four essays, world history charts, Latin notes, a webassign and a handful of blank sheets.
One hundred and twenty pages. The refuse left behind on the Upper School Commons printers at the end of the day, the items printed and forgotten. And that's on a good day.
"I get it, this is a school— we need to print stuff, but I don't see why we're throwing away half or three-fourths of the ream every time we refill the printers," senior and Technology Board Chair Nina said. "I don't get why people don't pick up what they print and I don't get why people always have to print their PowerPoints."
She admits to occasionally printing English readings to ease the note taking process, but leaves history readings on the screen.
Over the past seven years, the Technology Department's annual budget for student printers alone (this figure includes toner, ink and paper) has remained at $18,000. This budget and the paper usage it funds have not changed since the launch of the laptop program in 2005, despite paper-saving measures like drop boxes.
"I'd say it's about the same. I don't think we've decreased," Director of Technology Richard Bradley said. "You would think we would, but no."
Compared to workplace figures, this stagnation is actually an encouraging result. In the switch to electronic modes of communication, offices actually increased their paper consumption by 40 percent, according to Wired Magazine.
For his part, Bradley is known to pick up items left behind at the printer on the second floor of the ARC and distribute them to his co-workers. Even so, he sheepishly points out the small piles of printed emails stacked on his desk.
An official log of the number of reams of paper used is not kept, but Bradley estimates that the network printers (the ones students have access to) use between 50 and 60 boxes of paper annually, over 250,000 printed pages. In terms of monetary cost, the toner, $100 per 10,000-page cartridge, is higher than the paper. Yet even though the paper left behind is recycled, the environmental cost is obvious.
"Of reduce, reuse, recycle, we can definitely improve on all three. I think the most improvement is at the reduce stage," said Nina, whose board refills each printer, on average, every day and a half.
"We do recycle everything that we pick up but I don't understand why we even have to go to that stage."
Student Council at one point suggested posting uncollected drafts on a "wall of shame" for all students to read, but the idea was never enacted upon. The sheer quantity of printed materials makes it difficult to monitor and hold people accountable for their waste.
In an attempt to combat the amount of paper used, rather than the amount left behind, in conjunction with the Environmental Awareness Club, the Technology Board installed a double-sided printer in the commons the week before Thanksgiving break. The double-sided setting is not the default; one must select double-sided under properties in order to utilize this function.

Enviro club member sophomore Kendall wishes more students took advantage of the option.
"I think that that's something the club really needs to work on. Because we got the printer, and that's great, but I don't know if as many people are using it as we would hope, just because you have to go in and change your settings."
But some girls have gleefully hopped on the paper-saving train.
Freshman Aashima celebrated in the hallway after successfully printing a paper using the feature, "I'm saving the world!"
Or at least the trees.
Page Turner
The smooth texture, the timeless, dusty scent, the creamy off-white of the printed paper, the soft rustle of a turned page engages the senses in a way lost on the computer screen. Be it handwritten class notes, a before-bed novel or the publication you are currently reading, paper, beyond the printers, still plays an important role in the technology-centric Hockaday community.
Simply put, Bradley said, "Everyone wants paper."
Book Club's president-elect, junior Nikita, noted that though most members own Kindles, Nooks or other e-readers, they do so because of the cost savings, and convenience—"I like my Nook because I can buy a book whenever I want to. I don't have to go to the bookstore"—but still enjoy reading a "dead tree" book.
"I could never just completely switch over," she affirms. "There's a different experience turning pages. Finishing a book is completely different on a hard copy because when you finish, you finish."
She finds the sense of satisfaction in finishing an e-book diminished, but estimates that 60 percent of her pleasure reading is done electronically.
Sales figures indicate this breakdown is common among readers. Since this past April, Amazon has reported that e-book sales outnumbered paper book sales, 105 to 10—and the gap is growing.
Upper School library assistant Ellen Back has personally made a complete switch to digital. After working at Barnes & Noble organizing author signings and other events, Back had accumulated more books than her house could accommodate. E-readers allow her to continue reading beyond the limits of her shelf space.
"In my garage I literally have 10 boxes full of books. I don't have anywhere to put them, so I don't really want more physical books…I love being able to just download it and read it and then I don't have to find a home for it."
She left the brick-and-mortar bookstore business just as the Kindle launched. Today, she is amazed by the amount of floor space Nook displays occupy and expects to see a continued shift in this direction.
Helping with check-out in the Lower School library, Back has noticed that for some girls, there's nothing like the real thing.
"Almost every girl checks out her maximum [number of books], so they still seem to want to take them home."
In Upper School, the two e-readers available to girls for check-out are no longer, removed from shelves after months of disuse and put to work as data storage and other functions in the school. Director of Libraries and Academic Research Corey Lott is working on revamping the e-book offerings in the library to better accommodate girls' reading habits.
Conversely, the digital age may actually make access to print books easier. Barely slower than a Kindle download, the Espresso Book Machine can print a paperback book in minutes and has access to over four million titles in its database. The dozens of machines installed around the world (closest to us is the one at the University of Texas at Austin) reveal a desire for print books that spans the globe.
Girls have the same offline preferences for their school reading. Of 176 girls surveyed, only three percent preferred online textbooks to bound ones.
"We had to buy an e-textbook for biology, except they only gave us half the book and you can only keep it for a year," Nikita said, "so I bought it [in print], and I like that a lot better."
Nikita prefers the completeness and durability of a "real" textbook, but the reading experience itself also offers an advantage.
"It's something about your eyes, when you're reading it on a computer screen, everything is just scrolling down and it kind of blurs together more," explains Kendall. "But if you're reading on paper, you can highlight and circle things with a pencil and write your notes out to the margin."
Please do so on this page.
– Caroline