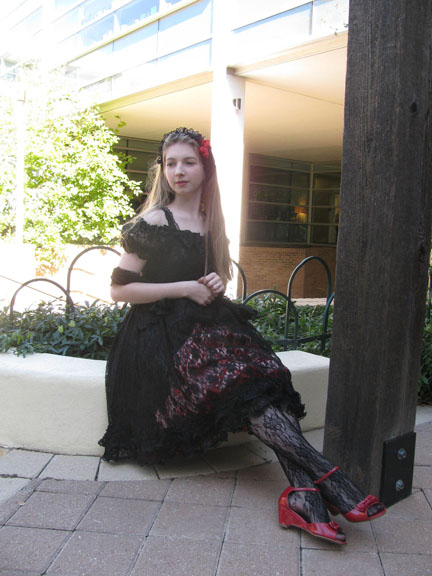 Freshman Monique dolls up in her "Lolita" style
For the most part, girls new to Hockaday want to fit in. Freshman Monique is not one of them.
When out of her plaid, Monique struts around the hallways in "lace, petticoats, big bows and flowers" Monique's friend, freshman Sarah, said.
Monique taught herself to sew four years ago by watching YouTube videos and enrolling in a sewing class. Though she still has a lot to learn, she enjoys sewing her own clothes.
"At first it was something fun to do, like a hobby," Monique said.
"Now, I'm starting to see that my style makes me sew my own clothes. It's hard to find something that I'm really, really in love with, so it's easier to just make them myself."
Monique often alters dresses she's given, but with such a busy schedule— in her years as a homeschooler she was "acting and dancing in about six shows at one time!"—she often orders them from Japan. But why Japan?
Monique has "been a Lolita since April and is part of the Metroplex Lolita Society. Lolita is not just a fashion movement, but a way of life."
Lolitas, meaning a perfect doll in Japanese, attend meetings regularly to discuss topics, including their outsider-status in society. Supporting each other in their pursuits, Lolitas honor Japanese style.
Because of her style, Monique was treated with incredulity or, at worst, intolerance at her old school.
"A lot of people misunderstand about what we wear and think it's for attention," Monique said, "but it's not…We want to make other people happier, and it just makes us happier when we do whatever we feel makes us happier."
In contrast, students at Hockaday tend to adore "her pop style," Sarah said.
Freshman Whytne explains that "Monique loves Asian stuff," and often rattles off Japanese phrases.
Because her Lolita lifestyle catches so many eyes around the school, students like Sarah "wish that she would make them clothes or bows" so that they can participate in the Lolita movement.
Senior Avery noted that "she first noticed Monique's style on a free dress day and has always wanted to learn more about it."
Monique's confidence serves as a reminder that one does not need follow the norms to succeed.
"A lot of people think that people who spend a lot of time on appearance clothes-wise might be vain," Monique said, "but we care how we feel in what we wear. It's not what you look like to other people, but's about how you feel and express yourself."
– Everest